In recent years, I have received increased requests to hold lectures teaching engineers how to write better proposals. I've been doing such lectures for five years, and have offered a total of 100 all over Japan. Classes once ranged from fifty to around four hundred students at once, but more recently a single seminar is drawing up to six hundred applications. Of course, the COVID-19 pandemic means that seminars have moved mostly online, making it easier for people to join from across the country. But that also means that with all of the online seminars now available, the online class market is getting rather saturated. The fact that my proposal writing seminars for engineers are still so popular, with all the competition out there, is pleasing.
My experience teaching these seminars has also led to a series of articles on news sites, which then became the textbook in the picture.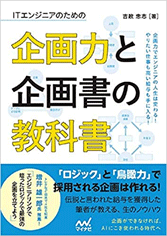 So then, why is it that so many Japanese engineers have suddenly found an interest in improving their proposal skills? Based on my own observations, I have come up with two reasons.
Reason one: Changes in the development process.
The primary Japanese development model used to be the waterfall model. In the waterfall model, coders could just follow the spec sheet, and the only engineers who needed any of these skills were in the upper layers, with direct contact with customers. However, that model has increasingly given way to the agile development model, which requires engineers to interact directly with customers while coding. That means more engineers need to be able to explain themselves clearly and efficiently, and win people over to their ideas. That has naturally led to more engineers developing an interest in improving their proposal skills.
Reason two: The increased awareness that proposal skills are needed to fully use one's tech skills
propose a better solution due to poor proposal skills, then they will simply have to work to the customer's specs without taking full advantage of their skills and experience. In other words, they can create a program, but cannot actually make the best use of their abilities. That is a truly regrettable situation for any real engineer. That is precisely the time when proposal skills could help an engineer clearly outline their own ideas and solutions.

Those interested will likely be able to find texts on better proposal writing in their own language, and perhaps that might be best to begin with. Proposals in Japan probably have a slightly different style from those written abroad, but the basics are essentially the same.

The basics of proposal structure in Japan are as follows:
Situation and Issues
Proposed Solution
Costs & Schedule
Return on Investment
When I looked at actual examples of English proposals in a guidebook, they appeared to be about the same.
I am sure there are plenty of people who think it will be difficult to write proposals, but once you grasp the fundamentals, it's not that hard. They have a logical structure that can be very useful when trying to sway someone, or assert your own ideas.
In the future, if you plan to work in Japan, there are sure to be some clashes with differences in culture or ways of thinking. When that happens, being able to assert your own position will almost certainly pay off, and studying proposal writing now will go a long way. It is definitely worth consideration!