Japan Lags with 5G Service Provision
5G, the next-generation mobile communication service, was launched in South Korea and America at around the same time and is already being provided as a commercial service in Europe, the Middle East, and South America. However, if we look at the Ookla 5G Map, which publishes all kinds of data on internet connectivity, we can see that 5G is still not available in Japan.
Japan's First 5G Service to be Provided at the Fall 2019 Rugby World Cup
Japan's first 5G service will be provided at some of the venues for the Rugby World Cup, which begins on September 20th, 2019.
However, this will not be a full-scale commercial service. The aim is to provide a pre-commercial service which will allow consumers to experience 5G's distinctive services such as super-vivid footage, or multiple viewpoint displays that enable play to be watched from different angles.
Matches will take place at 12 venues across the nation; from metropolitan Tokyo and Yokohama to Osaka (where the G20 Summit was recently held), from Sapporo in the north to Fukuoka, Kumamoto, and Oita in the south. Among these locations, the 5G pre-commercial service will be provided at 8 venues. It is currently unclear which specific venues will be chosen, but that information should be released soon.
3 + 1 Carriers to Particpate in the Tokyo 2020 Summer Olympics
When will 5G be formally launched as a commercial service? Japan's Ministry of Internal Affairs and Communications released this information in April 2019, announcing how radio frequency bands for 5G services would be allocated between carriers. According to this plan, the industry leader NTT Docomo will roll out 5G services in the spring of 2020, the second biggest company KDDI (which includes Okinawa Cellular Telephone Company) will launch its service in March 2020, and Softbank also intends to roll out its 5G service around that time.
Although that is the official schedule for 5G's launch in Japan, to begin with, it will only be available in Tokyo's greater metropolitan area, and in other major cities. It looks likely that 5G base stations for all regions will not be ready till March 2021. Moreover, the forecast for 5G utility is that by March 2025 NTT Docomo will have covered 97% of the country, KDDI 93.2%, and Softbank 64%.
These three carriers are not the only ones to provide 5G services. Rakuten Mobile, a new Mobile Network Operator (MNO) from October 2019, also plan to launch their 5G service in June 2020. Also, by the end of March 2025, Rakuten Mobile plan to offer their 5G service in just 56.1% of the country. This is less than the three established carriers, but this may be due to Rakuten Mobile's late start in the business.
Nevertheless, it seems probable that 5G services will be available at the main venues of the Tokyo Summer Olympics which commence in July 2020.
Japan's authorized frequency bands for 5G services number five bands in the 3.7GHz range (3600MHz – 4100MHz), one band in the 4.5GHz range (4500MHz – 4600MHz), and four bands in the 28GHz range (27.0GHz – 28.2GHz, and 29.1GHz – 29.5GHz). Altogether there are 10 bands, of which NTT Docomo and KDDI have been allocated three bands each, while Softbank and Rakuten Mobile have been allocated two bands each.
A Shortage of Engineers for 5G + IoT, Automatic Operation, and Smart Cities
Naturally, work in advance of the 5G service launch is proceeding at a swift pace. To that end, a great number of engineers are required to establish base stations and basic infrastructure, and to develop 5G enabled smartphones.
No doubt there will also be a dearth of expert engineers in such new fields as IoT, telemedicine, automatic operation, and smart cities, all of which will require the efficiency of 5G's ultrafast speeds, ultra low latency, and multiple concurrent connections.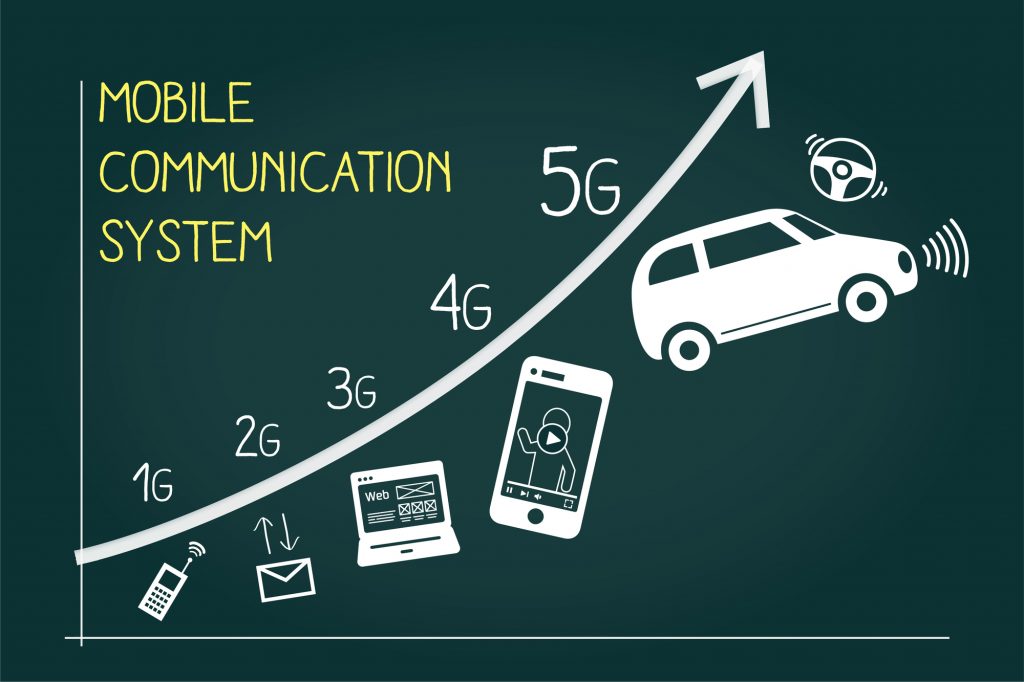 * The names of companies, products and logos listed in this article are the trademarks or registered trademarks of each respective company.