Mazda, Famed for the Rotary Engine, Have Developed a New Innovative Engine
This writer is in love with the two-seater convertible Mazda MX-5 Miata (which is called the Mazda Roadster in Japan). Though it can only seat two people and cannot carry much luggage, I drove the original model for nearly 30 years. Last fall I had to part with my beloved car due to a sudden breakdown. However, I like the MX-5 so much that in full knowledge of its drawbacks, I chose an MX-5 for my new car too.

I chose the MX-5 because it is a beautifully designed and fun-to-drive car. But that's not all. I also feel that I want to support the automaker Mazda's commitment to pursuing new technologies. Internationally, Mazda is known as a small car maker, but there are many fans of the MX-5, and it is the only company in the world that has succeeded in mass-producing rotary engines and installing them in commercial vehicles.
Now Mazda is drawing attention once again for developing the next-generation gasoline engine SKYACTIV-X.
SKYACTIV-X is an intermediate engine between a diesel engine that injects diesel oil into compressed air to cause combustion, and a conventional gasoline engine that causes ignition by releasing a spark into a compressed mixture of gasoline and air. Although many companies have engaged in research to realize an engine that combines spark ignition with compression ignition, Mazda is the first in the world to complete and implement the unique technology of Spark Controlled Compression Ignition (SPCCI). This appears to have all the advantages of a diesel engine, such as excellent fuel efficiency, high torque, and high responsiveness, as well as the advantages of a gasoline engine such as high output and superior exhaust purification.
SKYACTIV-X has already been installed in the MAZDA3 and will be available in the CX-30 in the future. Why not take a test drive at a car dealer and relish a quality drive that cannot be experienced with the engines of other automakers?
>
Honda and Mazda Launch User-friendly EVs for Urban Areas
The auto market is rapidly moving away from gasoline and diesel powered cars with their internal combustion engines that directly consume fossil fuels, and toward electric vehicles (EVs), and the shift to EVs is growing stronger.
Riding this trend, Honda Motor is to launch its first EV, the Honda e.
The Honda e has a compact body and can easily take tight turns with its minimum turning radius of around 4.3 metres, so it seems a good fit for driving in urban areas.Its battery capacity is not so large at 35.5 kWh, which is also probably because it is intended for short-distance travel. Also of interest are the latest features that are not available in conventional cars, such as a camera-type side mirror, the Honda Personal Assistant voice assistant, and the large display installed on the dashboard.
Again, Mazda, which has developed the innovative engine above, also plans to launch its first EV, the MX-30, in 2020. This also has a battery capacity of 35.5 kWh, and has a similar concept to the Honda e. Probably the drivable distance with a fully charged engine will not be long.
However, rumor has it that the rotary engine will make a comeback as a range extender. As a Mazda fan, I can't wait.
Toyota Advances into the Sky
Right now, automakers are on the verge of taking off from the ground.
Toyota Motor, for example, has invested $394 million in Joby Aviation, in order to launch an Electric Vertical Take-Off and Landing (eVTOL) aircraft.
Although Toyota has had no previous connection with airplane development, it seems that the technology required for the development and production of eVTOL aircraft has many points in common with the technology for next-generation automobiles, and Toyota can also leverage its strength in production and after-sales service expertise.
For Toyota, who are looking to expand into the field of Mobility as a Service (MaaS), expanding the available means of transportation from the ground to the air is certainly an important business strategy.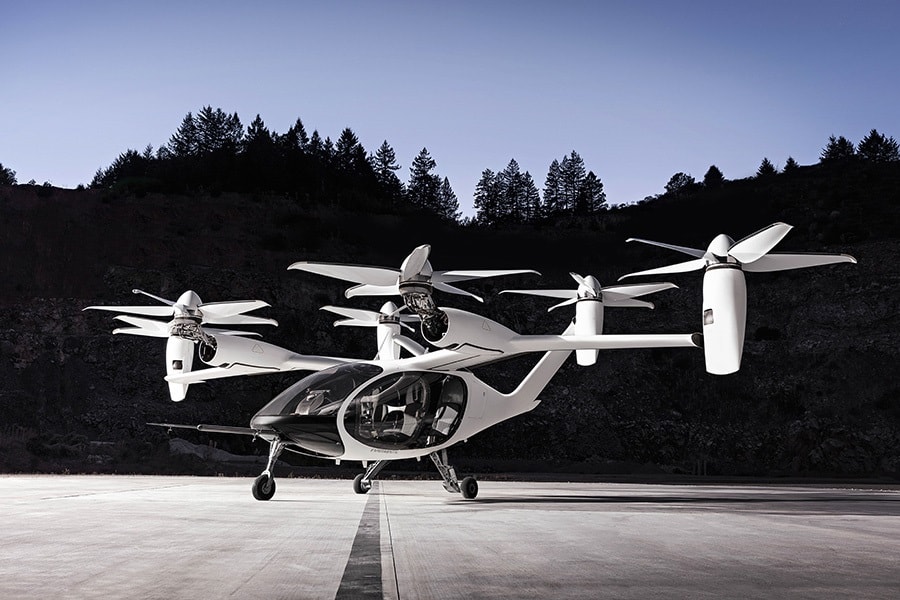 Toyota's eVTOL aircraft: automotive meets eviation