AI Research Enters a 3rd Boom
The practical technology of AI has become so widespread that not a day goes by without hearing terms like smart speaker, autonomous car, speech recognition, medical image diagnostics, and artificial intelligence. When we say intelligence, this is not true intelligence with the imaginative faculty that humans have. However, in a variety of fields artificial intelligence has the ability to go far beyond human performance. This is thanks to the development of IT which can process huge quantities of data at high speed. Although the concept of AI has been around for a long time, it seems that the term itself was established at the Dartmouth Conference in 1956. However, the computers of that era did not have sufficient processing capacity, so after the 1st Boom which lasted through the 1960s and 1970s, and the 2nd Boom of the 1980s and 1990s, AI research entered into a slump.
However, in the last ten years or so, developing technologies such as machine learning and deep learning have combined with the evolution of computing to produce dramatic progress in the practical utility of AI. This upsurge in the sphere of AI is apparent in patent applications too, and it is said that AI has entered into a 3rd Boom.
AI-Related Patent Applications Surge in Japan
Let's take a look at the current status of AI-related patent applications in Japan, by examining data released by the Ministry of Economy, Trade and Industry's Patent Office.
After reaching a brief peak of 2,509 patent applications during the 2nd Boom in 1991, the number of patent applications rapidly decreased. From the mid-1990s the number of patent applications hovered around 1,000. However, in 2014 there were 1,084 applications, 1,304 in 2015, 1,858 in 2016, and then 3,065 applications in 2017; an increase which surpassed the 2nd Boom.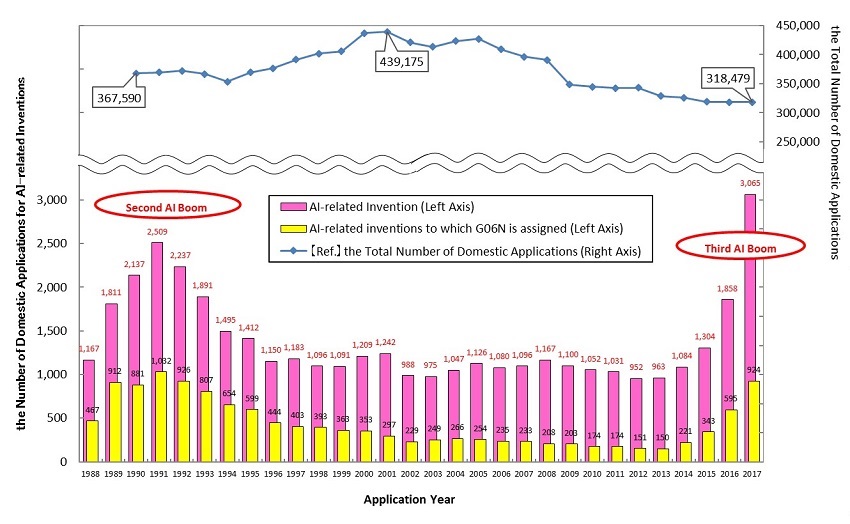 These patents are based on the technologies of neural networks and deep learning, and are expected to be applied to such functions as image processing, speech processing, natural language processing, and apparatus control. The applicants are named as Japanese companies such as NTT, Fujitsu, FANUC, Hitachi, NEC, Canon, Toshiba, Toyota Motor, KDDI, and Sony.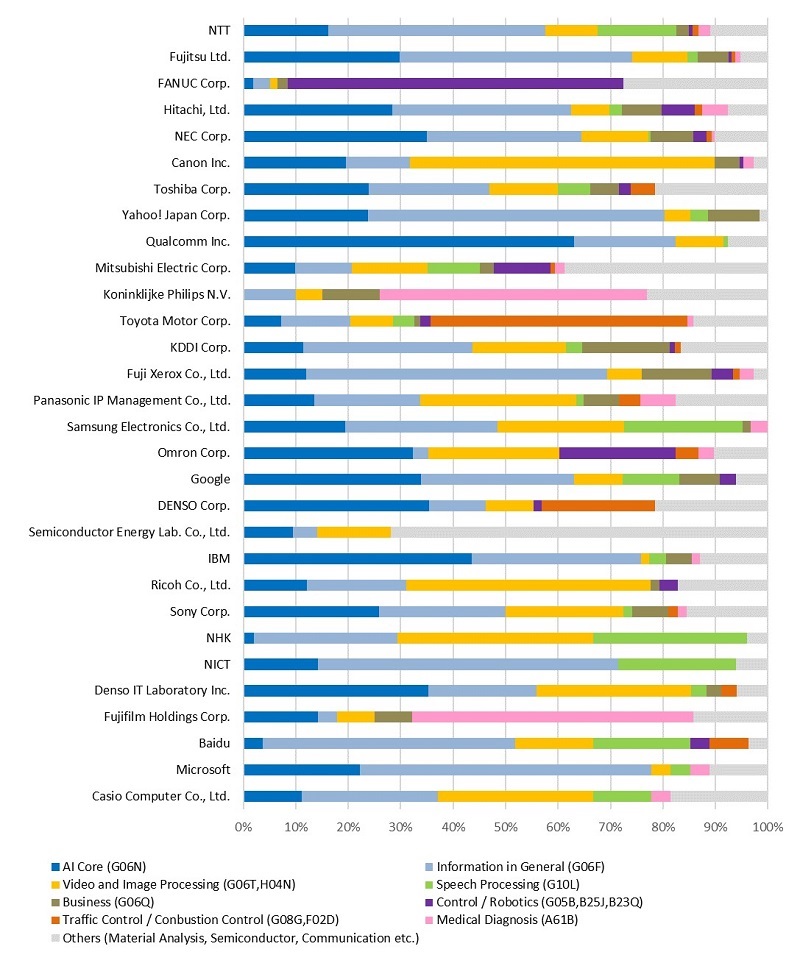 Looked at by country, the U.S. and China are conspicuous for their many patent applications. To be specific, the figures for patent applications related to the core technology of AI are 4,170 applications from the U.S., 2,844 from China, 567 from Korea, and 447 from Japan.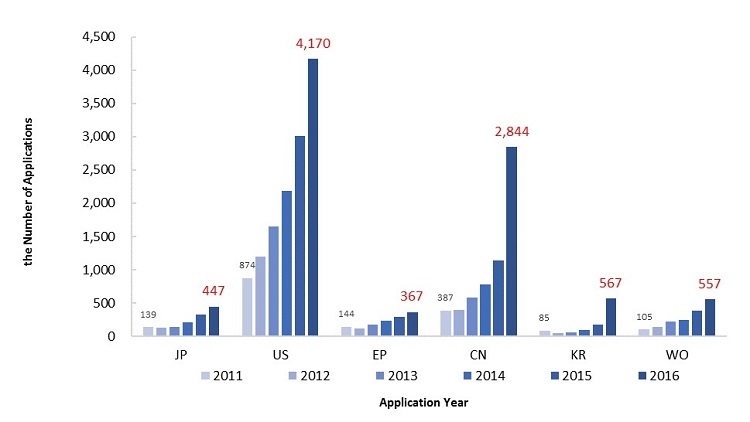 12 of the World's Top 30 Applicants are Japanese Companies
Data from the World Intellectual Property Organization (WIPO) also makes evident the increase in AI-related patent applications. The number of patent applications has increased rapidly from 12,473 in 2011, to 55,660 in 2017.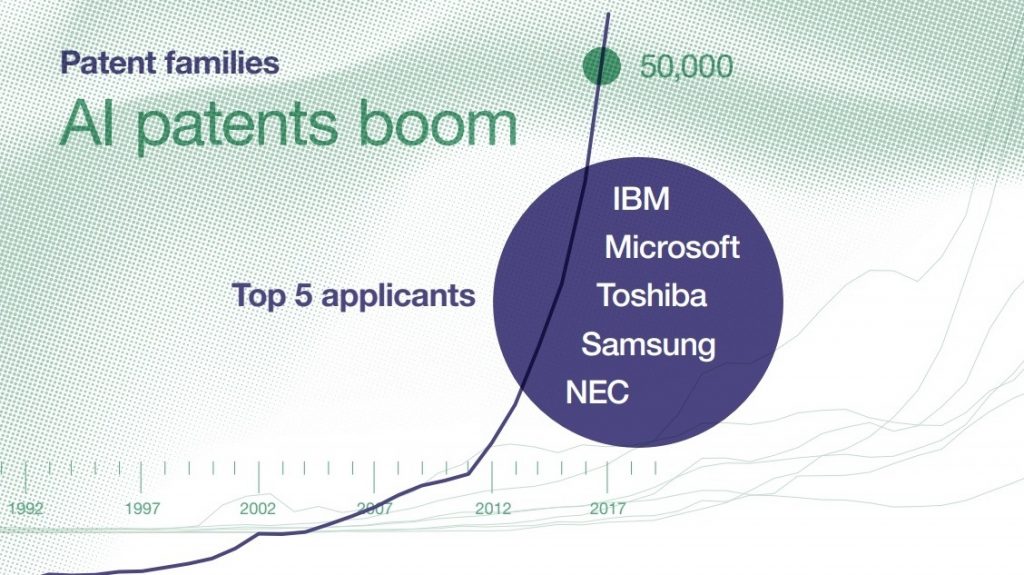 The top five organizations for patent applications by the end of 2016 were IBM (8,290), Microsoft (5,930), Toshiba (5,223), Samsung Electronics (5,102), and NEC (4,406). What is more, of the world's top 30 applicants 12 were Japanese companies. Japanese companies have made a really strong showing.
If we restrict our gaze to educational and research institutes, 17 out of the top 20 organizations are from China and their output is striking. In this area, the Chinese Academy of Sciences (CAS) comes first and takes the 17th place in the general ranking, while Xidian University takes the 29th place and Zhejiang University is 30th. Among Japanese research organizations, the National Institute of Advanced Industrial Science and Technology (AIST) takes 1st place, and the National Institute of Information and Communications Technology (NICT) was 2nd.