Japan's beach season officially begins with umibiraki (海開き) which literally means the opening of the sea. The dates for this will differ according to region with the southernmost beaches in Okinawa often opening as early as March or April while on the four main islands of Japan it is normally in early July. Most beaches on the main islands then close at the end of August, but stay open in Okinawa till the end of October. When the beaches are open a variety of facilities are provided such as locker rooms, showers, toilets, as well as seaside stalls and restaurants serving food and drink. In addition, there will be safety measures in place such as life guards and nets to keep out sharks and stinging jellyfish. You can of course visit these beaches in the off-season, but there will be no facilities or safety measures available then. Below we list our top seven beach resort recommendations for Japan based on both scenic beauty and facilities.
1. Yonaha Maehama
The islands of Okinawa form Japan's southernmost prefecture and their subtropical climate and many fine beaches make them a popular holiday destination. We could quite easily fill this list with Okinawan beaches, but if we have to choose just one it is Yonaha Maehama Beach on Miyakojima Island. Famous for its 7-kilometer long pristine white sand beach and emerald sea it is widely regarded as Japan's most beautiful beach. And with plentiful facilities and marine activities this beach offers lots of fun as well as superb views.
2. Yurigahama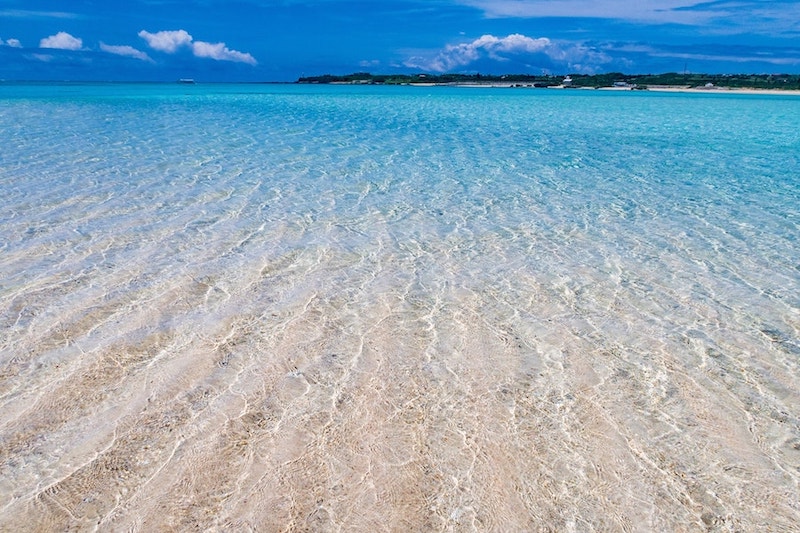 Yurigahama and its beautiful white sandbars
Located off the coast of Yoronjima Island in Kagoshima Prefecture, Yurigahama is a beautiful white sandbar that appears and disappears with the tides. Visitors can reach this "phantom beach" by taking a boat from the Okaneku Beach on the island and from there enjoy snorkeling in the crystal clear waters. The sparkling sands of Yurigahama are also famous for consisting of tiny star-shaped shells which adds to this beach's magical allure. Back on Okaneku Beach there are camping facilities, cabins, and several companies offering marine sports activities.
3. Suishohama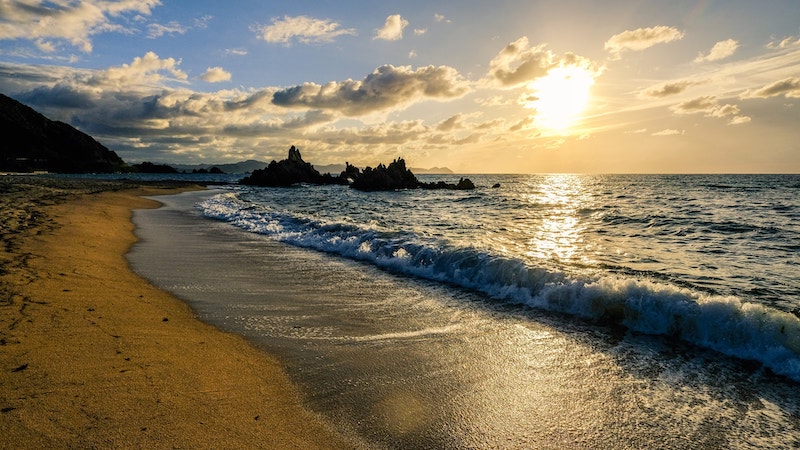 Suishohama, known as the Crystal Beach
The name of Suishohama in Fukui Prefecture literally means "Crystal Beach" because of the transparency of the sea here. The clear blue water is also very shallow at this beach which makes it excellent for swimming. This is a popular family recreational location for folks in the western Kansai and Hokuriku regions and it is also famous for its beautiful sunsets.
4. Jodogahama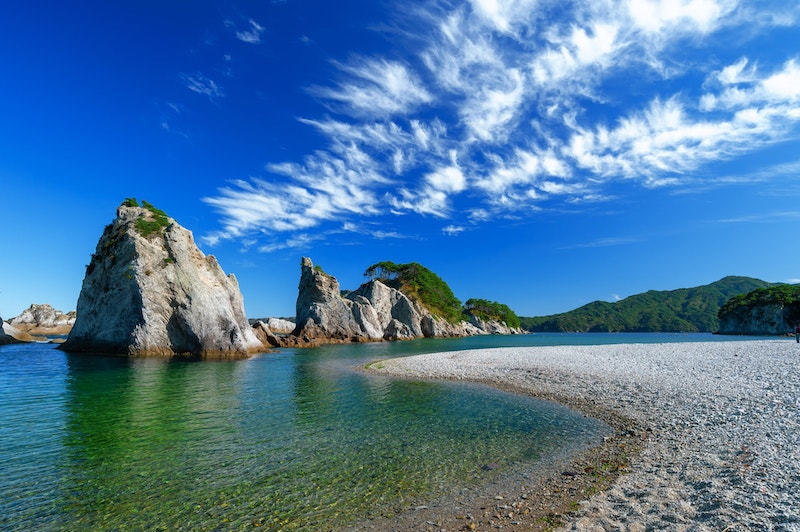 Jodogahama literally means "Pure Land Beach"
This sandy beach on Miyako Bay in northern Japan's Iwate Prefecture is famous for its dramatic rock formations, which together with the clear waters and surrounding green pines creates an image like a natural Japanese garden. In fact, Jodogahama literally means "Pure Land Beach" because it is believed to be as beautiful as the Buddhist paradise. Swimming and sightseeing boat excursions are popular activities here.
5. Shirarahama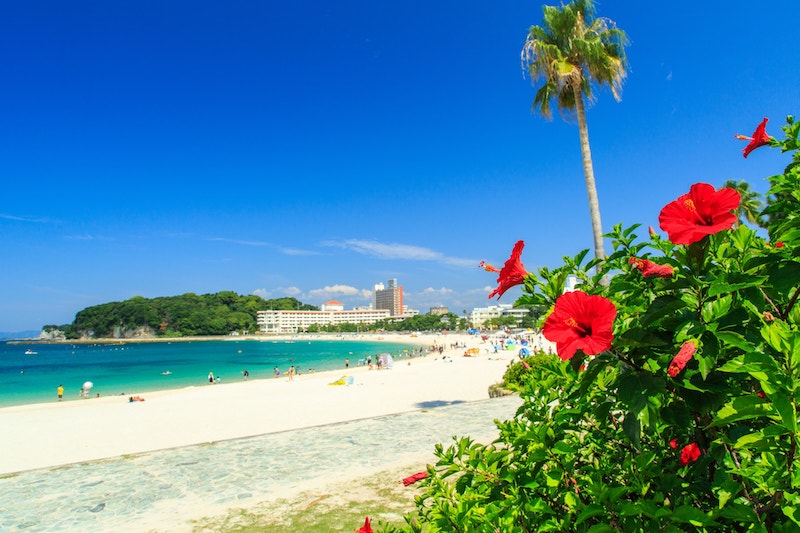 Wakayama Prefecture's beautiful Shirarahama Beach
This beach is located in the resort town of Shirahama in Wakayama Prefecture which is also known for its natural hot springs. The beach usually opens in early May which makes it one of the earliest to open on the main island of Honshu. The town's name Shirahama literally means "white beach", but you might notice that the beach's name Shirarahama is slightly different, and means "white good beach". Scenic rock formations, nightly fireworks displays in the summer, and a nearby amusement park add to this area's attractions. Shirahama is especially popular with folks from Osaka as it is easily accessible by train.
6. Chirihama Nagisa Driveway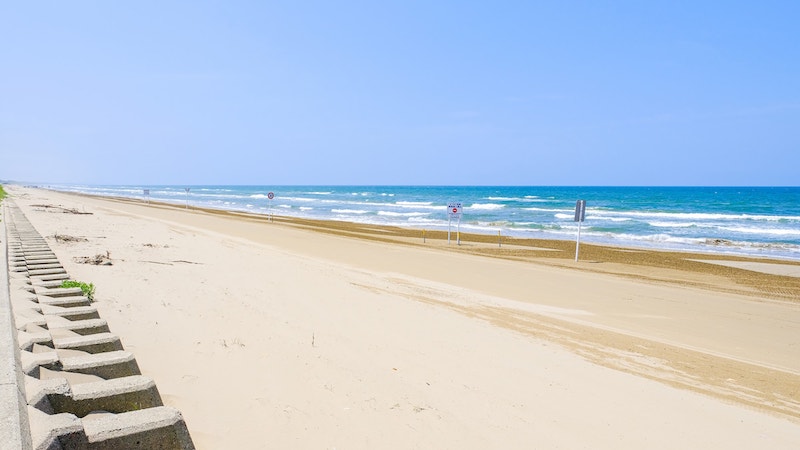 Chirihama, a beach where you can drive along
Chirihama in Ishikawa Prefecture is the only beach in Japan that you can actually drive on. The sand on this 8-kilometer stretch of beach is tightly compacted which makes it safe for driving. As well as exhilarating drives along the shoreline, this beach is also popular for swimming and seashell gathering. Regular beach activities can be safely enjoyed as the driveway is clearly demarcated by a rope. Just off the southern end of the beach are food stalls serving superb freshly grilled seafood.
7. Tatadohama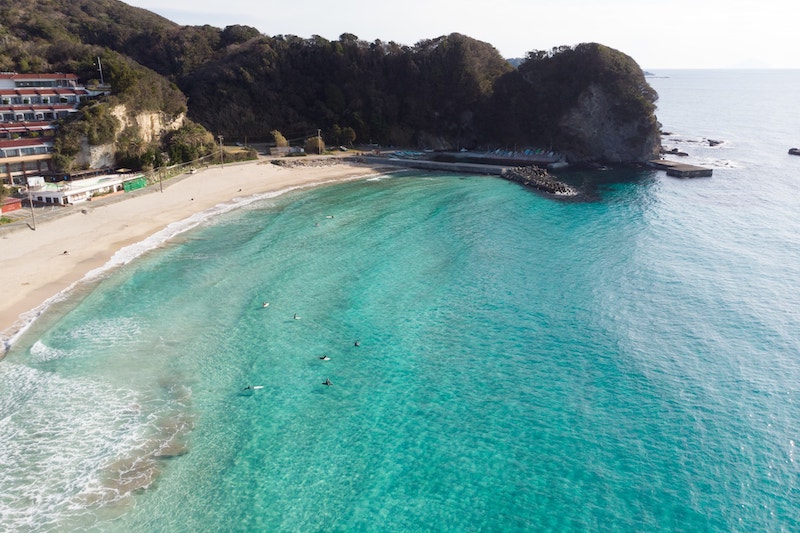 Tatadohama Beach, just a few hours away from Tokyo
This beach is located in Shimoda City on the Izu Peninsula and is just a day trip distance from inner-city Tokyo. Famous for the beauty of its sea and sands it is a popular spot for surfing and marine sports. The surfing and swimming areas are separated, so families with small children can swim safely. After a day on the beach, you can also soak your body in Izu's celebrated hot springs.