The five prefectures at the western tip of Honshu-Tottori, Shimane, Hiroshima, Okayama, and Yamaguchi-are collectively known as the Chugoku Region, and Tottori is the northernmost, and easternmost, of those five. It lies directly north of Okayama along the Sea of Japan, and borders Hyogo on the east and Shimane on the west (with a tiny little border on Hiroshima to the southwest).
Tottori is, to put it gently, way off the beaten path. The prefecture has struggled to create an identity that would make it stand out as a place to visit, and often the only thing anyone thinks of is the sand dunes, a region of desert-like…well, sand. I would argue that this focus is a little misguided, because the prefecture is overflowing with stunning scenery and outdoor excitement, as well as deep history and pop culture.
Much of what can be had in Tottori can be had elsewhere, but not in such clean, uncrowded surroundings, and that itself is a huge attraction now, as Japan is getting packed with tour buses and sightseers.
Seasonal Fun
The natural scenery in Tottori is perfect for marking the high points of each of Japan's seasons. The valleys come alive with color during spring's cherry blossom season, with highlights including Kyusho park around the Tottori castle ruins; Wakasa Station, where you can watch the dancing cherry petals from your train windows; and Tottori Hanakairo Flower Park, which offers a view of cherry blossoms against the backdrop of magnificent Mt. Daisen.
In summer, the cool Sea of Japan breezes make nature hikes and beach visits all the better, with tours through the Uradome Beach (part of San'in Kaigan Geopark) offering incredible rock formations, and snorkeling for those wanting to enjoy the water. Summer also sees Tottori's biggest festivals, like the Tottori City Shan-Shan festival and its thousands of dancers in the streets, or the Daisen Temple Taimatsu (torch) parade where locals parade through the night carrying torches to Ogamiyama Shrine.
Fall is, of course, time to enjoy views of the mountains ablaze with red, orange, and yellow as the leaves change. Tottori is also one of Japan's largest Nashi pear growing regions, so you can get out and enjoy picking these crisp, luscious fruits in the clean Tottori air.
And in winter, one word covers Tottori perfectly: snow. The cold air coming over the Sea of Japan brings with it heaps and heaps of snow, making Mt. Daisen a skier's paradise. There are four different ski resorts on Daisen, all offering a range of slopes, accommodations, and restaurants.
History and Culture
Tottori holds a number of ancient temples and buildings to offer the history buff plenty to see. Daisen-ji Temple, near the Mt. Daisen nature park, is a Buddhist training area used from the early 8th century (around the Nara period).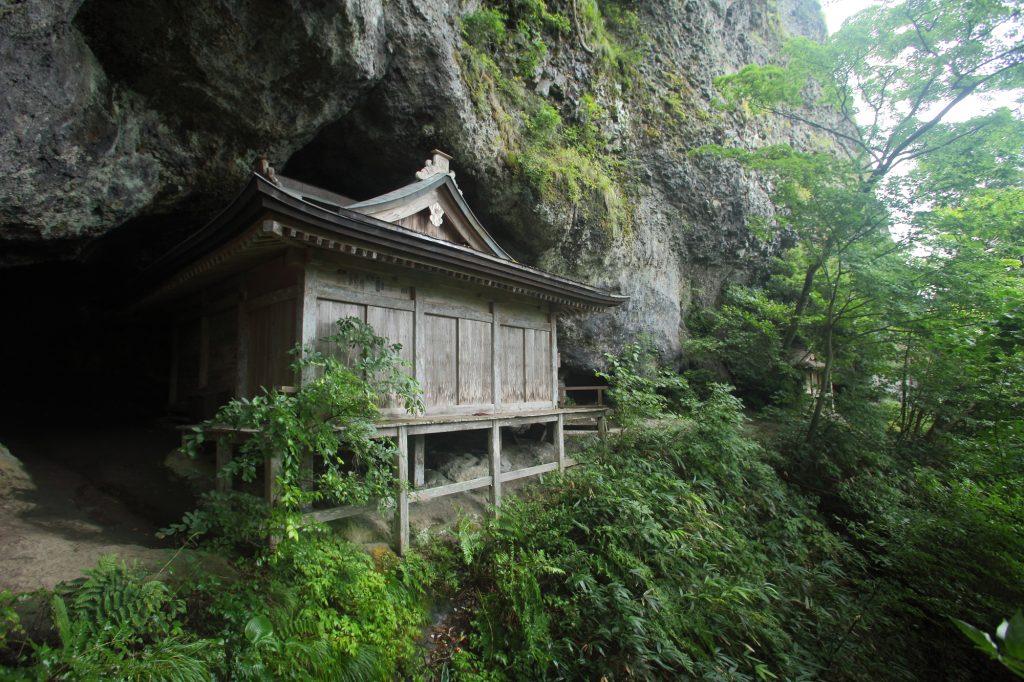 Another stunning temple is Mitokusan Sanbutsu-ji Temple, not far from Kurayoshi. This temple rests 900 meters in the air, and its famous Nageire Hall juts out from a sheer cliff face for a truly breathtaking view. To get there requires not only a fee but a grueling climb using metal chains and rods embedded in the mountain face. It's a mix of adventure and contemplation, as the quiet temple awaiting you at the end offers a moment of serene contemplation.
But Tottori's culture doesn't end at ancient temples. The prefecture was also the birthplace of two very important figures in modern popular culture: Shigeru Mizuki, the manga-ka behind GeGeGe no Kitaro, and Gosho Aoyama, the creator of Detective Conan.
Mizuki was born in Sakaiminato, not far from Yonago city. The town is proud of their native son and has designated one street Mizuki Shigeru Road. The road is lined with stone statues of GeGeGe no Kitaro characters, complete with fact sheets, and of course souvenir shops, restaurants, and cafes. It's a nice stroll, and for all you yokai fans out there you can get some fantastic books, postcards, posters and more with all your favorite Japanese beasties.
Gosho Aoyama, on the other hand, doesn't have a street to commemorate his work, he has a whole town! Aoyama's hometown of Hokue has unofficially renamed itself Conan Town, and it holds a museum of the artist's work, along with interactive displays letting you feel like you're in the manga. The station also runs a Detective Conan train, and of course, you can buy all the Conan swag you could ever want.
If you take the time to get there, Tottori has much to offer for those wanting unusual experiences and a taste of off-the-beaten-track Japan. Make the trek, it's worth it!