Today's Akihabara is a town of subcultures and electricity.
The district is filled with stores selling anime, manga, various associated merchandise and video games, and maids can be seen in the streets, but that's not all. If it's machine parts you're looking for, you can find that in Akihabara as well.
The reason for this is that a few decades ago, Akihabara was a district filled with parts shops selling radios, wireless machinery components, vacuum tubes and more.
This is the second article in the Akihabara exploration series, guiding you through the district's many faces.
Here you will be shown how to make your way through its streets in a way that shows you both the old Akihabara, and modern Japanese culture.
Introducing the Akihabara walking route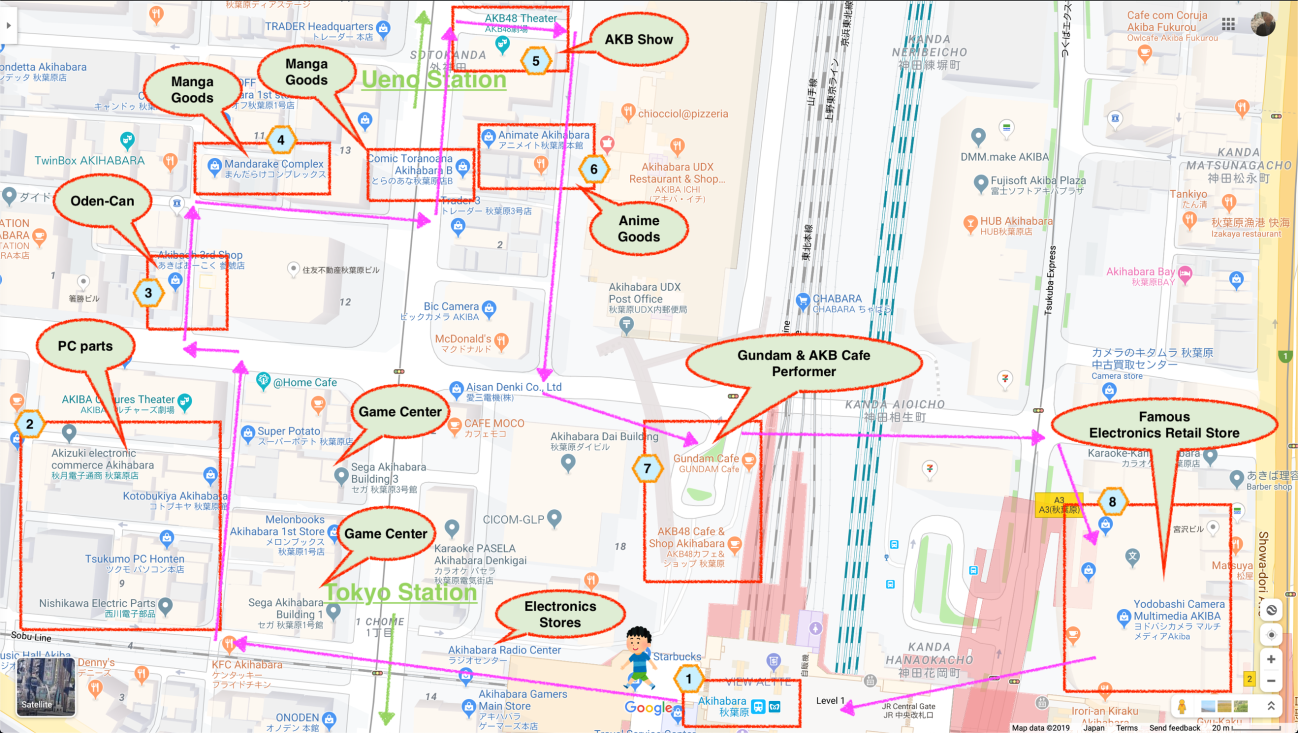 This is a map of Akihabara, with my usual route drawn on it in arrows. This time, I'll be introducing the points along this route as they're reached.
From Akihabara Station to the PC parts store area (1 to 2)
First, we exit from the electronics street side of the station, walking to area (2), where many PC parts stores can be found. Even on the way, you can find more old-fashioned stores, which I can definitely recommend, as they often sell PC parts and accessories more cheaply.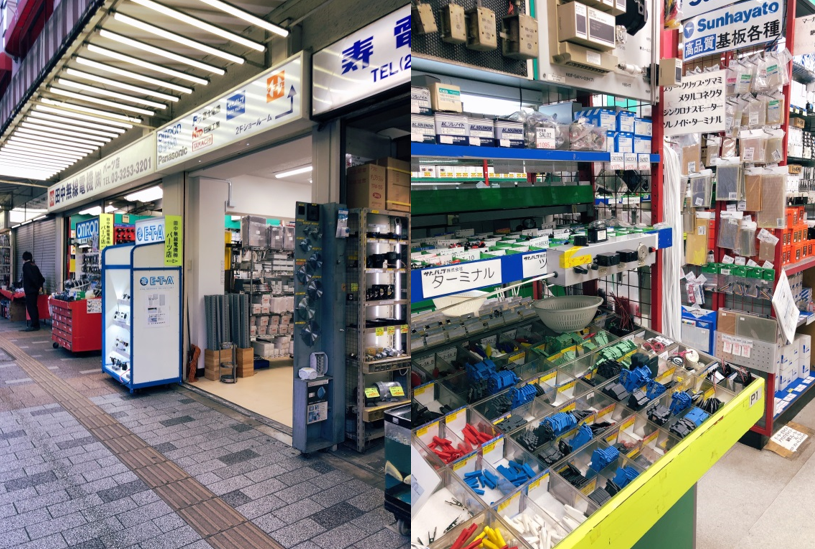 This area also has a store called Kotobukiya, which sells many plastic models and figures, and should be worth a visit.
Kotobukiya: https://www.kotobukiya.co.jp/
Heading to Mandarake while eating canned oden, an Akihabara specialty (2–4)
After you're done with the PC parts, stop by at point 3 and buy yourself some canned oden.It's more or less like it sounds: A local Akihabara dish that takes oden, a ubiquitous part of Japanese cuisine, and cans it. Worth trying at least once.
In area 4
, you can find Mandarake, which sells manga, anime and associated merchandise.It makes a good place to browse and buy as much of all of those things as you want.
Mandarake:https://www.mandarake.co.jp/dir/cmp/
Visiting the AKB Theater (4–5)
Further along the road, you'll see the AKB 48 theater. Today they have groups elsewhere in Asia too, but this theater is where it all started. They have nearly daily performances for 3,000 yen each time.
Stop by at Animate as well (5–6)
During the return trip from the AKB theater to Akihabara station, there are many stores like Animate that, once again, sell various anime and manga-related merchandise.
Animate:https://www.animate.co.jp/shop/akihabara/
Akihabara's various idols and performers, the AKB cafe, and the Gundam cafe (6–7)
Nearing the central exit of Akihabara station, at point 7, you'll find a quare containing the AKB cafe and Gundam cafe, which can be quite fun. The square also usually has idols and other artists giving various performances.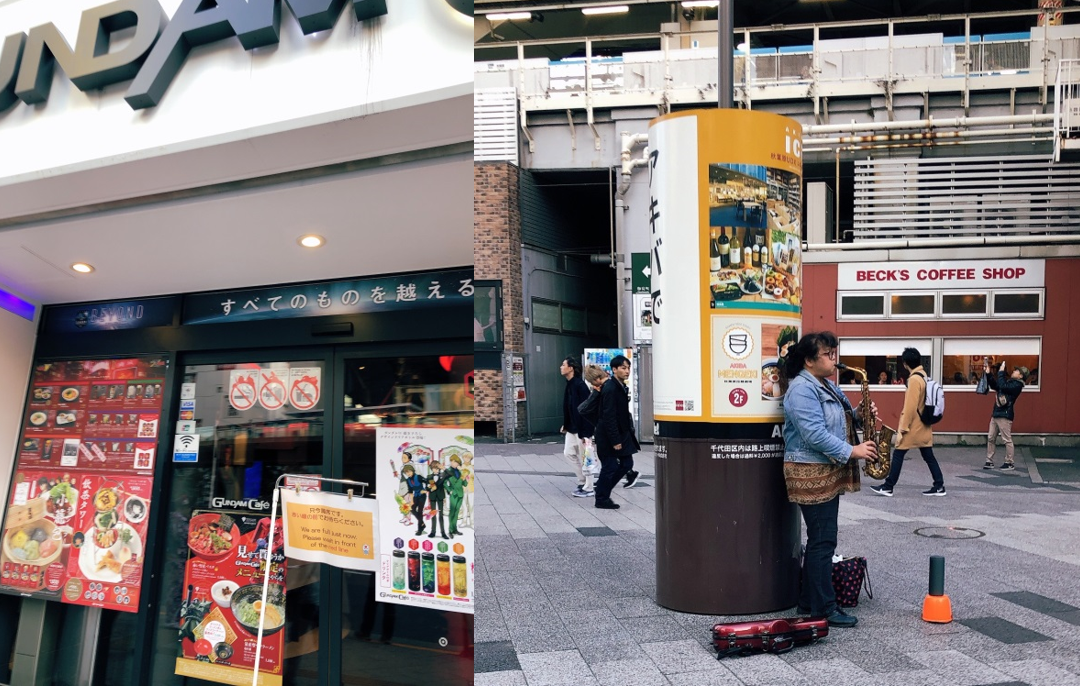 There's no missing Yodobashi Camera (7–8)
After that, I often go to Yodobashi Camera, on the other side of the tracks.It's supposed to be a home electronics store, but in practice it carries a lot of stationery, as well as games, alcohol, books, shoes and clothes, so you can find almost anything you want here.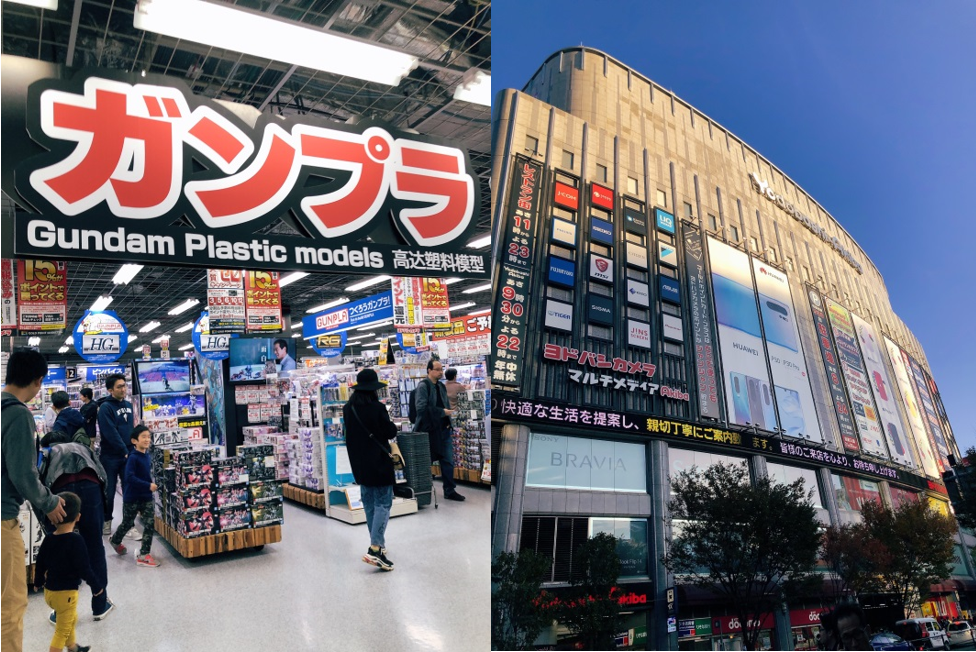 After finishing up my shopping here, the day-long tour of Akihabara is finished!
Conclusion
This has been the second part of the Akihabara exploration series, introducing my preferred route through it.
There are many ways to enjoy Akihabara, and this route mostly touched on the lighter and more approachable sides of it. With that said, there are many interesting shops besides these, and I plan to introduce some delicious foods I didn't get around to this time, as well.
The route introduced here doesn't cover that much distance, but there are many spots to stop at along the way, so keep in mind that it's going to take a lot of time.
Akihabara comes highly recommended as a place both for engineers, and fans of modern Japanese culture like anime or manga! In recent years, it's become more popular overseas too, and I often see foreign tourists all over Akihabara.
And so, next time, I plan to introduce some of the more old-fashioned stores around Akihabara; the ones that have been running in Tokyo for decades on end.
Please look forward to my hand-picked selection next time!