Japan's animated television programs and movies have spread outside Japan to find fans all over the world, a fact that many Japanese.
Seichi Junrei, or "sacred ground pilgrimages", are popular tours among Japan's anime fans, where they go and see the real life locations that serve as the backdrops for their favorite anime characters. For this article, we did our own seichi junrei of some famous anime spots in Tokyo. You'll see that Tokyo is the setting for a whole lot of famous anime!
1. Your Name
https://www.funimationfilms.com/movie/yourname/
This movie was released in Japan in summer 2016, and was directed by Makoto Shinkai.It was a hit all over Asia, not just in Japan.It was also very big in film awards, being nominated for a Best Film Annie award in the US, and for Best Film at the BFI London Film Festival, among many others.It's a great film that will make you laugh, cry, and want to watch over and over!
The settings are primarily divided between Tokyo's Shinjuku ward and the Hida area of Gifu Prefecture, but the picture on the movie poster, and the final scene of the movie, is set on the steps of a small shrine in Tokyo.
That shrine is Suga Jinja, in Shinjuku's Yotsuya neighborhood.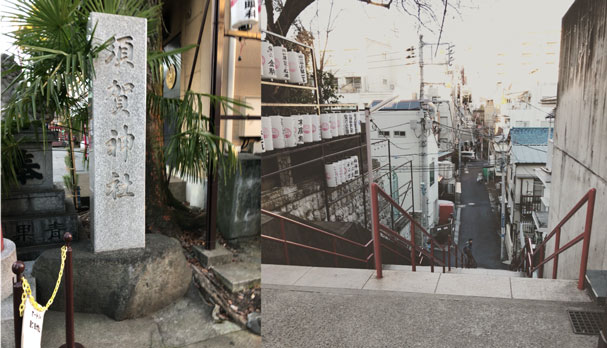 The film's ultimate climax, when protagonists Taki and Mitsuha pass on the steps, then turn around and ask each other's names, happens here. The film takes place in summer, and if you come here on a clear summer day you can match the anime scene perfectly!
Suga Jinja is in a residential area a bit of a walk from the nearest station, Yotsuya Station. If you're a fan of Your Name, it's definitely a shrine worth visiting!
2.Love Live!
http://www.lovelive-anime.jp/worldwide/
Love Live is a story about the school idol group called μ's (Muse) set at the fictional school Otonokizaka Academy.It started in 2013, and is still hugely popular today. The featured group, μ's, has broken out of the anime and now actually holds concerts around Japan and Asia.
In one scene of the show, the girls in μ's go through physical endurance training by running up the Otokozaka stairs at Kanda Myoujin shrine. These stairs have become another famous seichi holy land!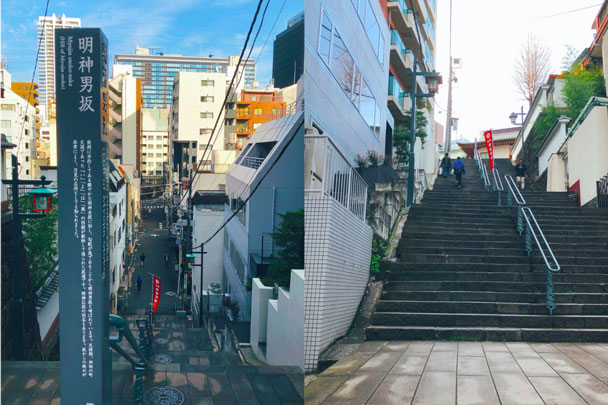 The stairs are quite steep, and running up them is kind of scary, but I think it's fun to pretend you're just like μ's and go up as fast as you can! (As long as you're not bothering anyone else. )
The anime uses very detailed drawings, so you should be able to recognize the spot right away.
Kanda Myoujin is near Akihabara, which we've talked about before.It's easy to get to and is popular even with visitors from overseas.
The shrine has merchandise and ema (wooden boards where you write a wish or prayer for offering at the shrine) linked to lots of anime, not just Love Live. You should put up your own ema!
Kanda Myoujin is also an important historical location as a center of reverence for the guardian deities of Edo.
https://www.kandamyoujin.or.jp/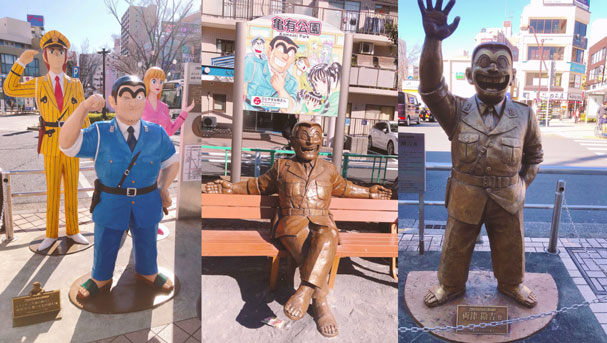 English: https://www.kandamyoujin.or.jp/what/
The main hall of Kanda Myoujin, and ema inside the precincts.
3. KochiKame: Tokyo Beat Cops
This is the anime and manga I recommend most to people coming to Tokyo from abroad.
The reason being it features not only many places in Tokyo and around Japan, but so much of Japanese culture, thinking, and history, too.
The manga continued for over 40 years from 1976, and the anime is really popular.It captures the issues of the time periods, so I think it can help people better understand Japan as a whole. I myself am not from Tokyo, so I learned a lot about the city from KochiKame.
The setting for KochiKame is Kameari, Katsushika-ku, Tokyo. Kameari is in Tokyo's east side, in the working-class area of the city called "Shitamachi" in Japanese, and is the perfect setting for hapless cop Kankichi Ryotsu's antics.
There are statues and dolls of characters from the series scattered around the area near Kameari Station and at the park next to Kankichi Ryotsu's police box, showing just how much local residents love KochiKame.
So, what do you think? Tokyo's full of locations used in popular anime. Are you ready to come and make your own seichi junrei anime tour?