Japan's telecommunications equipment market is structured slightly differently from that of other countries. The Japanese market is unusual in that domestic manufacturers who focus on developing devices specifically for the Japanese market hold a large share.
For example, the chart below shows the share of routers used by enterprises within Japan.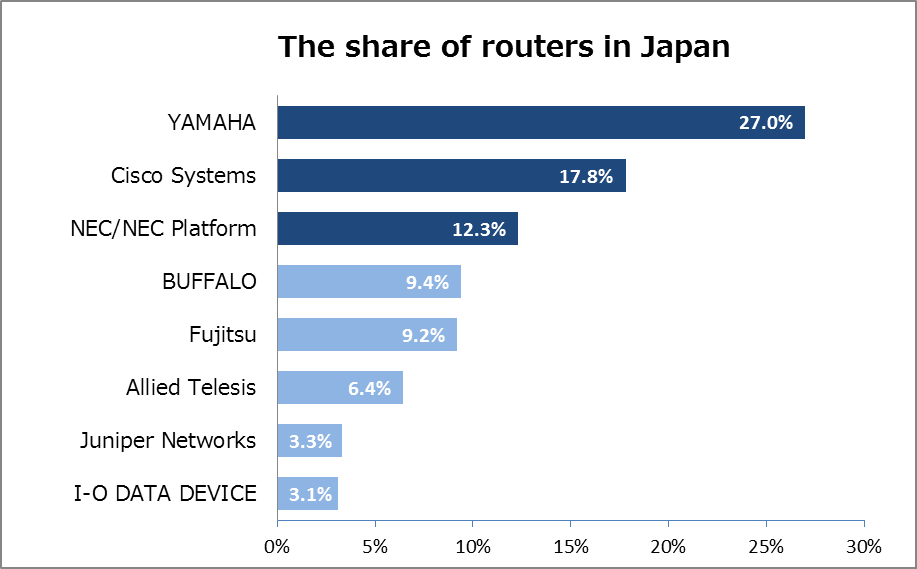 Based on data from: Nikkei XTECH
As you can see from the above, Yamaha, NEC/NEC Platforms, Buffalo, Fujitsu, and IO Data Device, all of which are Japanese manufacturers producing for the domestic market, are in the upper levels. Yamaha has the top share, with a large lead over second place Cisco Systems, despite the fact that Cisco leads the market in many other countries.
Looking at other survey data can help us can understand the reason for Yamaha's lead over the world market leader Cisco Systems. When digging into the reasons for Yamaha Routers' adoption rates, we find the assessments below:
National Yamaha Seminar Attendee Survey (2018)

The data above reflects the answers chosen for Yamaha Network Devices positive assessments, and as you can see overall, more than 80% of responders praised their stability. In Japan, many routers and switches are stored under desks, allowing them to gather dust and so on, so durability is a requirement. Yamaha devices are thus valued for their long term stability and the lack of breakdowns under those conditions.
Then, we can see that the third place entry is the high volume of documentation. Japanese workers are often not very good at English, and they find English documentation for overseas equipment difficult to read. Even if the documentation is translated into Japanese, some awkward language is inevitable, so it can still be difficult.
At the same time, the graph below shows the total sales of Network Devices.
Source: IDC Japan July 2019
Cisco Systems earns over half of network device sales. My personal rule of thumb is that with devices that don't require detailed configuration, like switches or wireless LAN routers, overseas maker Cisco Systems and its high market share are a favorite, but for enterprise-levelrouters requiring detailed configuration and require installation in large numbers, Yamaha devices are preferred because they are cheap and easy to set up. At the same time, when we look at sales of equipment for large scale enterprise networks, where high speed and large networks are required, Cisco, with its strong management functions, wins in a landslide with nearly half the market share.
Source: Nikkei XTECH August 2019
When we move on to network devices with high customer satisfaction, then Yamaha wins. Yamaha Network Devices has taken first place four years running in Nikkei Computer's annual Customer Satisfaction Survey.
Thus, the Japanese market is split between Cisco Systems, which wins in sales on its strength in high performance equipment for large scale networks, and Yamaha, which wins on number of devices based on its high stability, low cost, and plentiful documentation. In the future, the Japanese market will likely adopt more and more virtual routers and virtual telecommunications devices. Yamaha entered the virtual router market in 2019, in response to Cisco Systems current lead in that market as well. Since virtual routers are cheaper than on-sitephysical routers, Yamaha might have a strategic advantage.
I look forward to seeing how this plays out!