The idea of bento (obento vs.bento is a matter of formality, 'obento' is more formal) is nothing unusual — boxed lunches exist just about anywhere. The main difference in Japan is how widespread it is, and how ingrained it is in the culture. Packing lunch happens everywhere, but it's an entire class of meal in Japan, partly because of the amount of time people spend away from home at work or school. The term, by the way — and this surprised me a bit — is an 800 year old southern Song dynasty slang term meaning 'convenient', which passed into Japan with a few changes in the characters used for it, and now refers to a particular kind of meal.
Your typical bento is a partitioned box with everything kept separately, holding a few side dishes, while at least half the box is taken up by rice. Egg dishes, fish, pickles, and breaded and fried sides feature commonly. The rice is generally white (sometimes red), and might be topped with things like a sheet of nori, or black sesame seeds, or plum pickles. Smaller, partition-less or vertically stacked bento boxes exist as well, though those are usually made at home.
When people talk about bento, especially outside Japan, they tend to mean the homemade kind. This isn't quite as big as it used to be — people will have fruit, sandwiches, just rice balls, convenience store snacks or something else all the time for lunch — but it's still very common, and if you see anything talking about spending hours preparing lunch for the next day, it's about this. It's not that the food is extremely time-consuming in itself, but that there's a bit of a tradition of putting enormous effort into presentation. If you're not feeling it, that's fine — I think it's still worthwhile to make sure you have decent meals without fussing over how it looks too much. If you want to learn some bento recipe ideas… well, I can cook but I can't cook that well, so recipe sites are your friend here. For English sites, justonecookbook.com is one of the most comprehensive, though it's going to throw a couple ads at you starting out.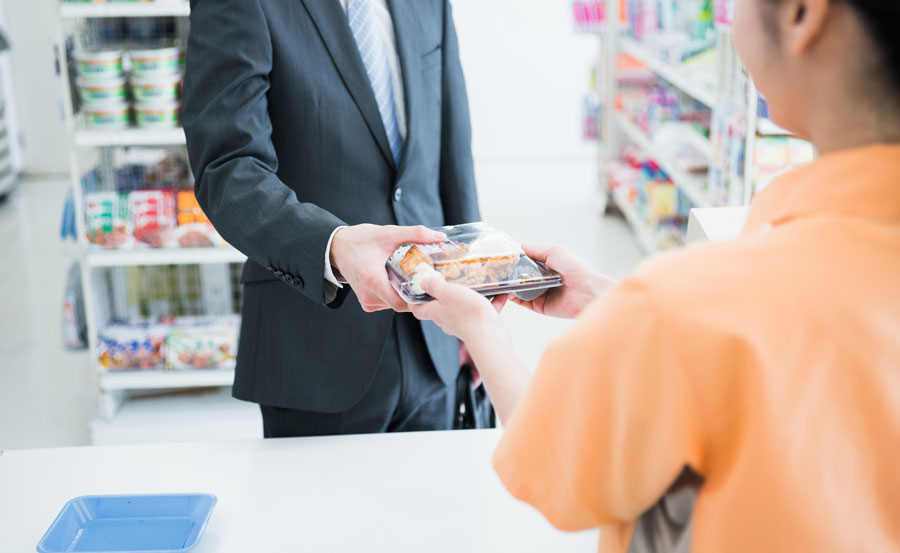 Alternatively, you don't have the time, you can't be bothered, or you just don't really cook and don't plan to start now. This is where the second part of the cultural spread I mentioned comes in: You can buy bento just about anywhere. In fact, it's cheap and good enough that I get it to eat at home when I can't be bothered with cooking but the price of (for example) eating or delivery is a bit much. You have two options for this, and I'll be honest, it's basically a choice between a decent option and a much better one. The first is more easily available: Any convenience store (and to a lesser degree, supermarkets, which tend to offer things in a more piecemeal way) will offer a whole lot of bento options, or possibly just one pack of udon or something if you wandered in late at night. I don't always have the best timing.
A little less commonly (and I say that mostly because convenience stores are everywhere), you can find specialty stores, usually chains, that sell bento. ほっともっと (Hotto Motto) is probably the most common around the country these days. Most of them keep up a revolving door of bento and a lot of permanent standbys, and they'll be a lot cheaper for the amount and quality you're getting than anything in a less dedicated store. Most of them are open pretty late too, so if you want it for a home meal, or breakfast or dinner, that works just as well. Hotto Motto in particular lets you order in advance from their site, so you can just go there to pick it up at the time you set, although in practice you'll be waiting there between 10 and 20 minutes at most anyway.
Back to the home-cooked kind, though, you'll probably want a box to keep it in — the alternatives are only recommended for people with lots of saran wrap or very big hands. A department store (or ordering online) is probably your best bet for these, and the fancier the box, the more the scale tips towards the latter. Most are smallish and made of plastic or metal, but there's a decent amount of variety in size. What you want is a bento-bako, written 弁当箱 or べんとうばこ (in case you need help searching). As for more traditional bento boxes, there's the わっぱ (wappa) boxes, which are oval and made of bamboo or wood. On one hand, these look and smell really nice. On the other hand, you better clean and dry them well, or you won't like what happens in a country as humid as this.
Alternatively, for something much larger, you have Jubako (重箱), meaning 'layered box', which is a series of stacked and partitioned square boxes. These see other uses for food including presentations of certain types of meals, and ways to present lots of finger food at events, so it's not necessarily just for bento. Definitely the biggest one, though, if that's a concern.
Lastly, for people going to a bento store: The meals are put together from preset ingredients, but they are cooked and put together on the spot, which means you can be picky if you have any dietary requirements. Vegetarian? Leave the meat and fish out. Can't handle gluten? Honestly, you might want to skip this one depending on how sensitive you are, but you can definitely ask them to leave the fried foods out, just give you the side dishes without rice (at a discount) and so on; I'd say you don't have to restrict yourself to what's on the menu, but a lot of places do show off these options on the menu.
Whatever route you take (or all of them), you're definitely missing out if you don't try this special part of Japanese food; lucky for us, it's easy to find.