Ryokan (旅館) are traditional Japanese inns which are often located in rural resort areas and set amidst beautiful natural scenery. Usually they feature such elements as tatami flooring and futon bedding in the guest rooms, and communal bathing areas. Most ryokan serve both breakfast and dinner which feature the very best local ingredients. Ryokan can be expensive and you may ask yourself, is it really worth the cost? Well, staying in a ryokan is a great way to experience rare aspects of traditional Japanese culture such as architecture, interior design, hospitality, and regional cuisine. And a relaxing ryokan stay is certainly a great way to treat yourself. The best ryokan are those in onsen (温泉) hot spring spa areas where you can soak yourself in natural mineral waters. Here we recommend Japan's most luxurious and beautiful ryokan with onsen.
1. Arai Ryokan
Arai Ryokan is located in Shuzenji Onsen, an ancient hot spring resort town on the Izu Peninsula. Established in 1872, the inn is a registered National Cultural Property and boasts its own fine art collection. There are a variety of indoor baths, and an outdoor bath with its own garden where you can bathe under the trees. The lightly alkaline waters are good for stiff muscles, digestive problems, and general rehabilitation. High-grade kaiseki (懐石 — multi-course)cuisine is served with fresh fish and seasonal vegetables. The gorgeous guest rooms have views over the Katsura River or over the ryokan's gardens. Rooms with private onsen baths are also available.
http://arairyokan.net/english/
2. Yatsusan-kan
With a history dating back 160 years, Yatsusan-kanstill retains the charm of old-worldJapan and is registered as a National Cultural Property. The inn is located in the little riverside town of Hida-Furukawaand is surrounded by the mountains of Gifu Prefecture. Indoor and outdoor baths face on to a traditional Japanese garden and the lightly alkaline mineral waters are said to have a beautifying effect on the skin. Massage, reflexology and aromatherapy treatments are also available. For dinner authentic kaiseki meals are served which include Hida beef and mountain vegetables. Guest rooms are decorated with simple elegance and some rooms have Western style beds instead of futons.
3. Sekizenkan
Located in the beautiful mountain valley town of Shima Onsen in Gunma Prefecture, Sekizenkan is reached by crossing a graceful vermilion bridge. The main building of the ryokan was built in 1691 and was the inspiration for the bath house in the animated movie, Spirited Away.It is believed to be the oldest standing ryokan building in Japan. There are a variety of indoor baths with fresh spring water and outdoor baths with forest views where you can enjoy the naturally therapeutic waters. Kaiseki meals are served in the guest rooms and can be accompanied by local sake, shochu, wine, or Sekizenkan's original beer. Guest rooms are furnished in an antique style and some come with private rotemburo (露店風呂 — outdoor baths) or Western style beds instead of futons.
https://www.sekizenkan.co.jp/en/
4. Matsusaki Ryokan
Located in the town of Tatsunokuchi Onsen in Ishikawa Prefecture, Matsusaki Ryokan was established in 1836 and features a large traditional garden and pond. Stone and cypress wood baths give views over the garden and from two outdoor baths you can view Mount Hakusan. The bath's natural mineral waters are silky-smoothto the skin and relieve aches and pains. Matsusaki serves kaiseki course meals featuring the best of Ishikawa's rice, seasonal vegetables, seafood and sake. Traditional tea ceremonies are also available. Most guest rooms are traditional with futons on tatami matting, but Western rooms with beds are also available. All rooms in the New Wing of the inn have their own private rotemburo.
5. Bansuiro Fukuzumi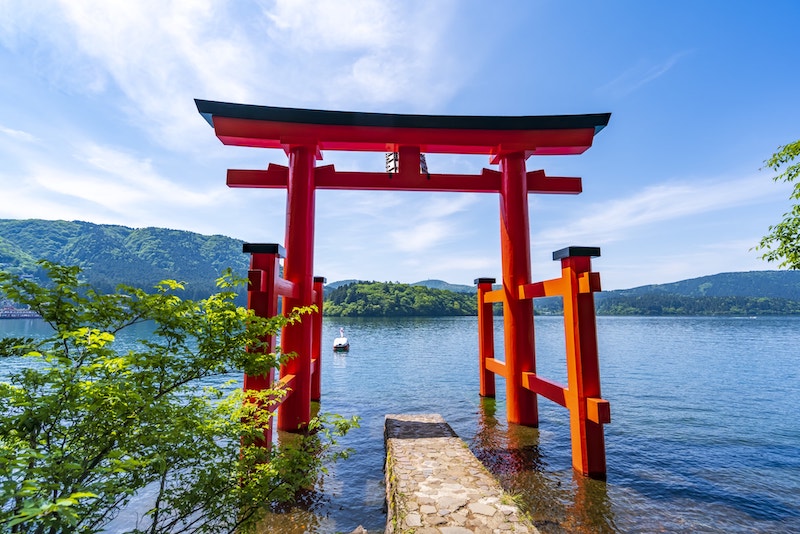 Bansuiro Fukuzumi is a historic ryokan located in the popular holiday destination of Hakone. The ryokan was first established in 1625, but the oldest of its current buildings dates from 1879 and is a nationally designated Important Cultural Property. A variety of stone and wooden, indoor and outdoor garden baths are available, and guest rooms also have their own cypress wood onsen baths. Top-gradecourse meals feature a mix of classic Japanese dishes such as sashimi, grilled beef, shabu-shabu,and nabe hotpots. Spacious rooms tastefully furnished with sliding paper screens and calligraphic wall hangings provide a tranquil space in which to unwind.
https://www.fukuzumi-ro.com/eng/about/about.html
In Part 2 of this list we will introduce Japan's longest-running ryokan businesses!