Hello, Yoshimasa here. Japan's IT business is adopting Python, along with artificial intelligence, machine learning, big data, and network infrastructure. Those fields are clearly going to continue spreading in Japan, and as each of them started to break here right around the same time, they have contributed to Python's current boom.
Looking at Google trends, we can see that Python demand has seen a major increase in the last five years.
Google trends for 'Python' in Japan
In 2018, the Japanese government's Commission on Future Investment Strategies discussed the urgent need to develop talent in the fields of AI and deep learning, and as a result, Python was added as an optional part of the government's Information Security certification exam from spring of 2020. All of this has helped push the desire to study Python across the whole market.
The result for us is that while it took three years from the establishment of the Python Exam to pass 10,000 takers, we went on pace to get 10,000 takers in a single year from the very next month. At the same time, when we look at the test-takers themselves, we see that 77.6% have been programming Python for less than one year. The numbers show just how many new Python learners there are in Japan now.
I think the expanding AI and machine learning markets are behind this. Personally, I feel we're going to see every computer system starting to adopt AI and machine learning technology in the future.
Thinking back to the beginning of computing, people started out just using them to do mathematic computations, but the evolution since then has been leading clearly toward AI and machine learning. The human users of computers are sure to find it useful if their computers are able to learn and process correct decision-making. Both of these systems currently take too much time and money to adopt into all computer systems, but as time and cost decrease, they're going to see very rapid spread.
AI has already become quite advanced in the specific fields of image and speech recognition, speech synthesis, linguistic analysis, search and retrieval, and translation. Image recognition is spreading particularly quickly in manufacturing quality inspection, worker safety management, and maintenance monitoring of public infrastructure like roads and bridges. Facial recognition and self-driving cars are other common uses. Linguistic analysis is used in analysis of call center responses, legal texts, and translation systems, and is also being used in business systems for outlier detection. One thing that surprised me recently was hearing about experiments into using artificial intelligence to perform software construction tasks that used to be done by system engineers. It seems that AI is quickly becoming able to do safely, reliably, and quickly much of what humans once did.
And, as we can see from the table below, since more than half of these systems are running on Python, the future market for the language is going to be immense.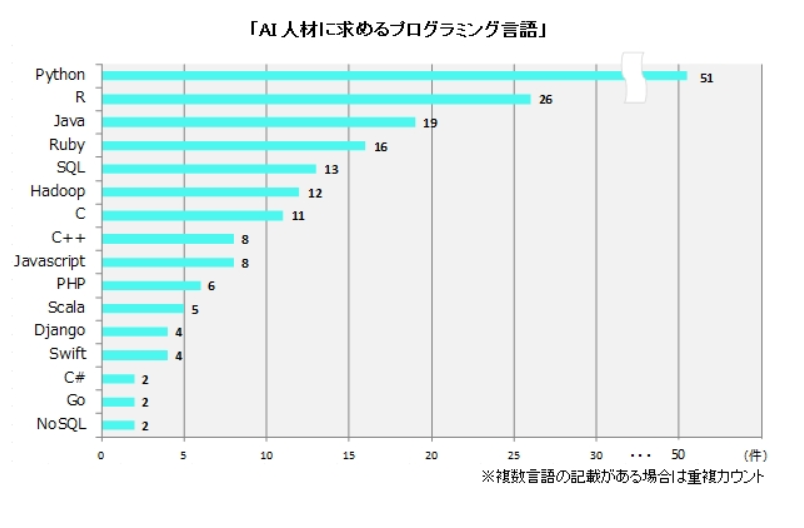 Programming Language Demanded in AI Staff
Note: Total language demand numbers are double-counted in some cases.
Source: AINOW Survey, Published November 2016
I think there is no doubt that many of you reading this column will be dealing with AI and machine learning to a large extent in the future. I think it will be well worth your time to study Python, since it is used so much in this market.
If you are hoping to work as a programmer in Japan someday, you would do well to pay attention to the expanding Python market and get to studying!
And with that, let's call it a day.