Hello, Yoshimasa here. Python demand continues to grow globally. The language was first released over twenty years ago, and ever since engineers have been using it worldwide, helping to increase the number of available libraries and adding to its ease of use and productivity. At the same time, there is a sense that Japan lagged behind a little in adopting Python.
I feel like it has only been in the last five years or so that talk about Python has started showing up in media and event participation started growing. Japan's Python boom coincides with the spread of artificial intelligence, machine learning, and big data, and government announcements have included statements about using Python in artificial intelligence and machine learning applications. One thing that particularly impressed me was when the governmental agency Japan's Growth Strategy Council — Investing for the Future-, headed by the Minister of Education, Culture, Sports, Science and Technology (MEXT) and the Prime Minister, released a statement that the Japanese government would be using AI in the future, so it was a national interest to start educating AI engineers who can use languages like Python. News media picked up the message, and it felt like a new dawn had come for the language.Coincidentally, that was the year my colleagues and I launched a Python certification exam, and when the news was published in Humanities Monthly, the article used the phrase "Morning has come for Python. "A few years later, government certification examinations began covering Python topics, and MEXT released a plan for data entrepreneurs that kicked off a movement to train data analysts in Python.
In the Japanese market, the private sector typically begins to pick up soon after the government starts to act on an issue. In this case, we see job postings asking for Python skills have increased even compared to pre-Corona numbers.
| Language | May 2019 | March 2018 | Volume compared to 2018 (%) | Change in Number | Change in Rank |
| --- | --- | --- | --- | --- | --- |
| Java | 46750 | 48220 | 97% | -1470 | – |
| C | 39543 | 26675 | 148% | 12868 | ↑ |
| PHP | 36700 | 28685 | 128% | 8015 | ↓ |
| C# | 27760 | 23333 | 119% | 4427 | ↑ |
| C++ | 26172 | 22657 | 116% | 3515 | ↓ |
| Python | 22930 | 9082 | 252% | 13848 | ↑ |
| Ruby | 20228 | 12676 | 160% | 7552 | ↑ |
| JavaScript | 17941 | 18561 | 97% | -620 | ↓ |
| Objective-C | 14913 | 5834 | 243% | 8359 | – |
(From Indeed Japan tallies, May 2019)
This graph shows the total number of jobs posted to Indeed Japan in May of 2019. As you can see, listings asking for Python skills had increased 252% year on year.
This year, we can see that although the overall number of recruitment ads has declined due to the pandemic, Python ads have increased, if only slightly.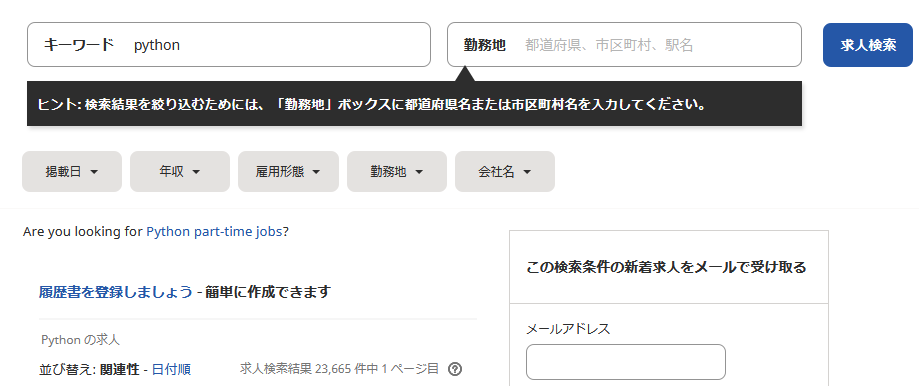 The above is a screenshot of numbers compiled by Indeed Japan in March 2021, and shows a total of 23,665 job postings for Python. At the same time, Python education is still lagging behind, and so we see many openings for people with no experience needed.

In that same March 2021 Indeed Japan listing, a search for "Python no experience" resulted in 7,966 job listings. This means that many companies are struggling to find experienced Python engineers, so they are opening up to those just starting out.
This would imply that right now is a great time for overseas Python engineers looking to work in Japan. I personally think that it should be relatively easy to get a job in Japan, even if you have trouble with the Japanese language, as long as you have some skill with Python.
I think real experience is the absolute best way to grow in your career, and is is also the best way to build work skills in Python and the Japanese language. I feel like overseas engineers looking for work in Japan are about to receive a great chance at relatively easy placement.
If you're thinking about coming to work here, why not get in touch with Human Resocia, Japanese leading overseas dispatch company? Go ahead and take a look at their Jobs page, you never know what might be waiting there!