If you're new to Japan, there are many quirks and unique experiences here that might be surprising to a first-timer. One of the reasons for this is that Japan is, yes, very different from a lot of other countries. Another, for western visitors, is that it might be your first time in a wildly different culture.
The other is that you've probably seen articles like this before, but they cherry-picked examples to make a show of how bizarre Japan is — most of it is usually rare and strange even here. For this article, I'm going to share a few things that are unique to Japan, or at least Japan and a handful of other countries, but are also normal here; I had to check most of them to make sure they're not normal elsewhere. It can be hard to tell when you're used to living in one place.
Sometimes it comes as a bit of a surprise. Taking your shoes off indoors? Pretty normal everywhere east of Hungary, and in plenty of other places too; it just so happens that everyone I know who's visited Japan came from places where this isn't really done. I wish it were, though. Let's try a couple more unusual things, then.
1: Tissue paper and cloth handouts. The first one's more of an urban phenomenon; it's not going to happen to me while I'm strolling about in the mountains. That said, a popular form of advertisement is to hire people, sometimes with a sign, to hand out little plastic packages of tissue paper to passersby, which contain a small slip with an ad. Apparently these 'pocket tissues' reach about 5 billion packages a year in production, which gives you some idea of the scale of things in cities.
In restaurants, meanwhile, before the meal, you're almost guaranteed to receive an 'oshibori'. A heated, damp cloth to clean your hands with (and then hold for a while anyway, if you're me, because they're really warm).
2: Limited edition everything. For sweets, anyway. All kinds of sweets will have seasonal limited runs, and often local variants as well, using some kind of famous local produce. Of actual branded products, this goes for pocky and kit-kat most often (and outside sweets, regional Hello Kitty variants). Other than that, there's an entire cottage industry of mixing local produce into ice cream to market it. Sometimes, this can work out well and make some interesting flavours. Other times, you have ishiru (juice from fermenting sardines, used as a condiment) ice cream. So, mixed results.
3: Unoccupied vegetable stands (and sometimes tofu as well). This one is more of a countryside sight, where farmers put up a stand with their produce, prices listed, and a box to put money in, counting on people to take what they want and pay properly, without anyone actually watching the stand. Honestly, I'm happy I live in a place where this works.
4: Mascots. Everything has an official mascot, it's basically step 1 of marketing in Japan. Sometimes mascots sprout up even when there's nothing to market, presumably out of sheer force of habit (or trying to give a face to groups and places). I'm fairly sure my town has three or more official ones. Depending on the case, there may also be a suit handy for someone to dress up as that mascot for events. If you're curious about examples, you might want to look up 'yurukyara' for some examples.
5: Decorated trucks. By no means the norm, but they happen reasonably often and you might see one driving late at night. Just… see for yourself.
6: Plastic display food. I was absolutely shocked to find out this isn't standard practice outside Japan and Korea, but here we are. Restaurants will often have a display cabinet outside, stocked with some of their major dishes as wax-and-plastic models, created to look as similar to the actual dish as possible; these are partway between a demonstration to show what you're getting, and an ad to draw customers in. I once walked through a part of Kappabashi (a district of Tokyo that sells to the catering industry quite often) with shops advertising these models, which was a very strange sight. Apparently, these started up in the 20 s, and predate menus somewhat in Japan.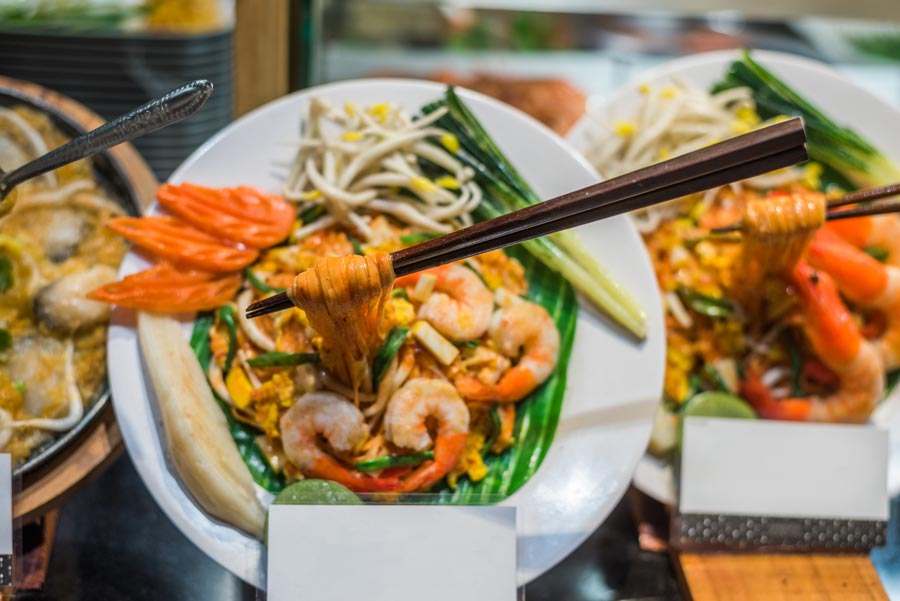 7: Okay, you came here to hear something bizarre and the trucks don't count for you. Consider: The boxed gift section of michi-no-eki (roadside stations, which tend to be a few eateries and a park clustered around a gift shop). Japan already has a culture of preset gifts — often sweets that never see the light of day otherwise, or soaps, among other examples — that are meant to be given as presents on certain very specific occasions, at which point they're usually stowed away and regifted. If you're back from a trip, on the other hand, you might bring something local, often a food. Some of these are actual local specialties, while others are more universal. Two of those are eel pie and cheesecake.
Yes, eel pie. I'm not sure exactly how this started, I think it may be the supposed health benefits of eel, especially the idea that it's supposed to help with summer heat somehow. So you put it into puff pastries covered with enough sugar to glitter in the light, as you do. Many of these boast that you can barely taste the eel, which is reassuring but also leaves me wondering what the point of the whole business is.
The cheesecake is fine though, right? Well, no. Japan has no end of perfectly good cheesecakes, and then it has these, where the idea only seems to have come as far as 'take a cheese, put it in a cake and add sugar'. Edam, camembert, brie, cheddar and blue cheese are all very popular options for this. I've never had one in my life but I feel a little afraid any time I walk past stacked boxes of them.
There's a lot more to go into, but there's only so much room at once; keep an eye out, though, there's sure to be more to share next time!