Introduction
In Japan today, brick-and-mortar bookstores are on the verge of disappearing. The reason can be found on the internet. The growing strength of Amazon and e-books (such as Kindle) play into this, as well as flea market services such as Mercari. It feels as though physical bookstores are a relic of the past.
According to the Japanese Publisher Promotion Centre's site, the number of bookstores has dropped from 20,000 in 2001, to 12,000 or so in 2017. This is only going to increase with time.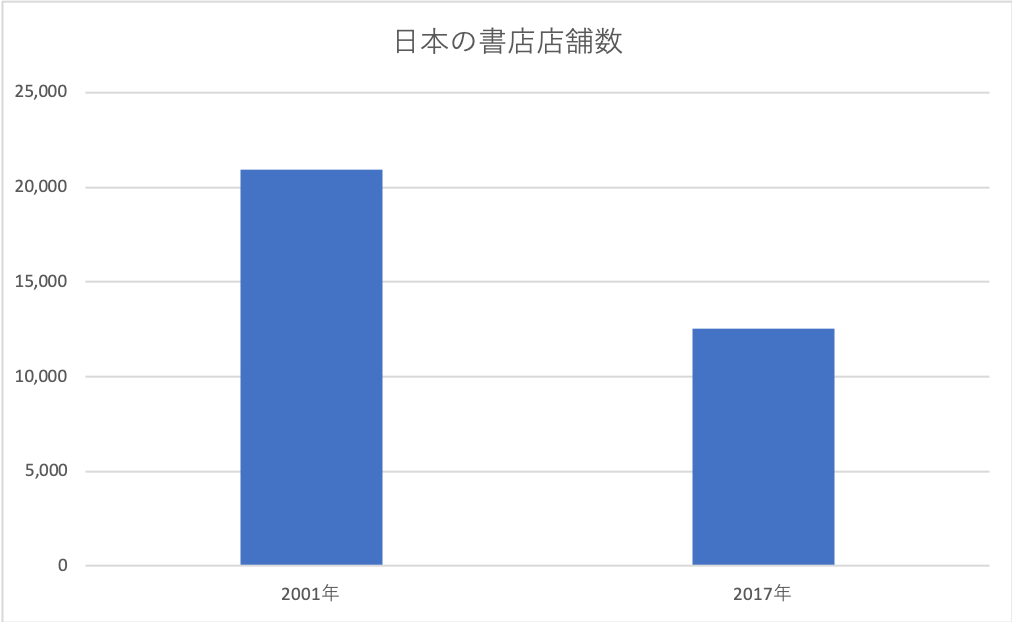 By the way, do you read books? Are they second-hand? Or do you borrow them from a library? If they're new, you probably buy them from Amazon or bookstores, while in Japan at least, second-hand would be bought from second-hand bookstores or the Amazon marketplace. I don't personally care about new or second-hand books, but I prefer to buy them rather than borrow. The reason is that I tend to dog-ear books or write in them. This means I end up making the book my own. This is the one point I care about.
Do you feel a second-hand book is more valuable than a new one?
Normally, you would think that a second-hand book loses value compared to a new copy. But what if someone you like, respect or admire used that book? Wouldn't that make it worth more than a fresh copy? After all, someone you admire made bookmarks wrote in the margins and drew lines on the text.
"So that's what they focused on!"
"Oh, I never thought of it that way!"
In this way, you would be able to follow both the contents of the book and the trail the reader left through it.
Would you find value in that kind of book?
Shirushi bookstore
There is a bookstore that deals in books where each person leaves their own mark (or shirushi in Japanese) in the books. Its name is the Shirushi bookstore. You can use your smartphone to put up books that you marked, and other users can purchase it. Anyone who puts books up for sale is called a store owner. In other words, the value in the thing being sold here is the storeowner's perspective. Not the value of the book itself.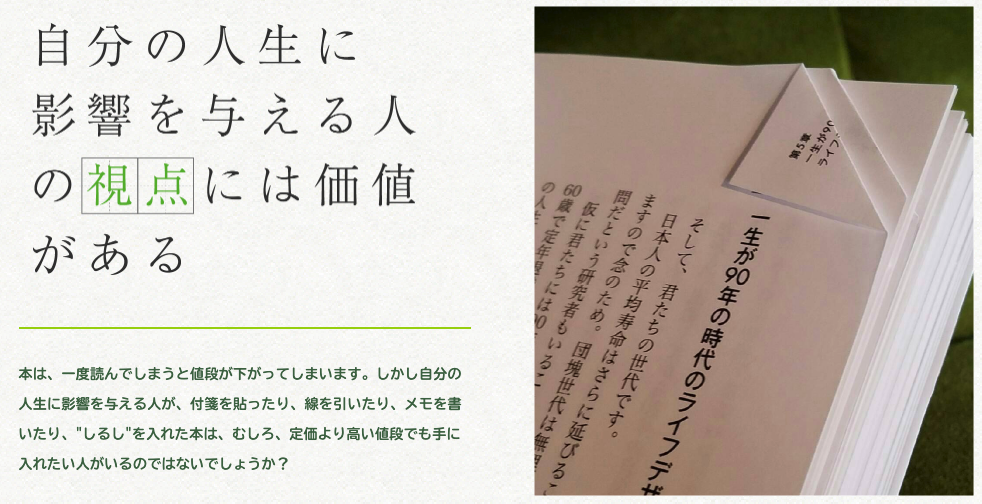 This idea came from the Japanese comedian and picture book author "King Kong" Akihiro Nishino, and was made real here. Mr. Nishino also displays his books around Japan, holds his own online salon, and is otherwise active in many areas.
How this came to be
How did this project begin? The answer is CAMPFIRE.
Using a crowdfunding service called CAMPFIRE, it gathered 9,610,136 yen. Since the goal was a million yen, this would be 961% of the planned funding.
*Creating a platform where anyone can make a second-hand bookstore
https://camp-fire.jp/projects/view/24608
The project flow was roughly like so.
[Crowdfunding phase]
1. Check how much demand there is for the service
2. Create fans of the service
3. Gather funds for development
[Online Salon Phase]
4. Repeat service tests
[Completion phase]
5. Release the service
Research the market properly, and if you determine that there's a demand, create a group of people who resonate with the concept of your service, or in other words, fans. Fans will naturally spread your service, and recommend it to people around them.After the group around your service has heated up enough, you start gathering funds.From there, you can also repeat user tests in an online salon hosted by you, and from there, move smoothly to release.
The implementation itself consists of an iOS app and Android app, most likely built in Swift and Java.
In Japan, Smartphone development sometimes uses React Native, Xamarin, Flutter and other cross-platform frameworks, but the bulk of it is still separate iOS and Android app engineers developing their versions by themselves.
Closing thoughts
The Japanese market is said to be unique, and it's hard to say if the Shirushi bookstore would be accepted outside Japan. However, if there's enough will and vision, people and funding will follow. Crowdfunding is a powerful method to achieve that. If enough people share that vision, I feel that it would provide an excellent debating and developing environment for the engineers who make these ideas into reality.