Do you prefer to pay with cash? Or do you prefer go cashless?
I'm in the latter camp.
Which is to say, I don't feel that there's much merit in using cash.
If you lose it, it's not coming back, and fishing for change at the register takes too much time. Occasionally it can be useful, but going cashless is often far more convenient.
Japan, on the other hand, is said to be a cash-only country.
According to the Ministry of Finance's 'working towards a cashless society' files, cashless payments are a mere 20% of the total. Compare this to South Korea's 90%, and the US's 50%, and 20% begins to look quite low. In other words, the Japanese prefer cash where possible.
Trends in cashless payments in Japan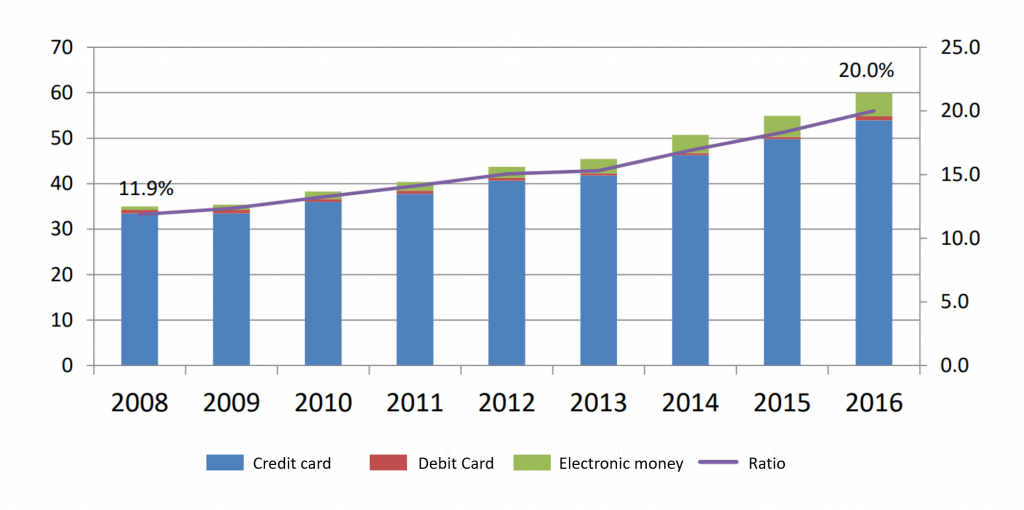 Source: Ministry of Internal Affairs and Communications http://www.soumu.go.jp/main_content/000581085.pdf
Why is this?
Could it be because there's no need for alternatives?
In Japan, you can walk around with large amounts of money and it's very unlikely to be stolen, not to mention many shops only accept cash. Even in Tokyo, you might not be able to eat lunch without cash on hand. Going cashless might make some people uneasy.
However, cashless payments are slowly growing even in Japan, and the main force behind it is FinTech. FinTech can refer to a great many things, such as cloud accounting software, insurance, investment, cryptocurrency and more, but this time I plan to write on payment services in particular.
In Japan, the following payment services are popular.
RakutenPay
LinePay
PayPay
Origami Pay
According to ICT research, the common services using QR codes are as below (RakutenPay on far left).
The common mobile payment QR code-based services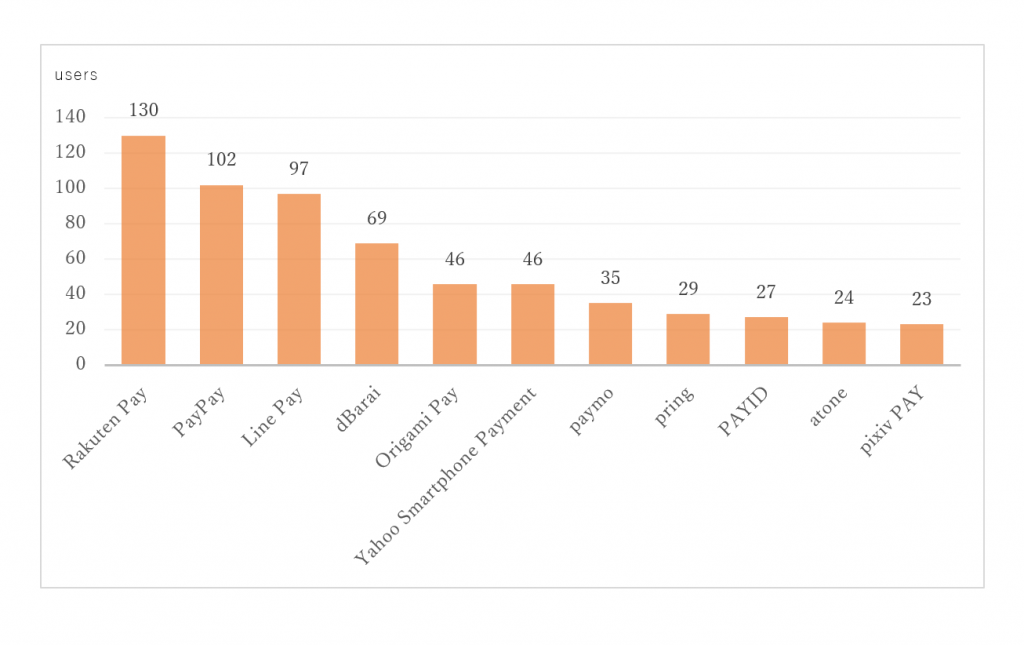 *Number of respondents: 279
Source: Mynavi News https://news.mynavi.jp/article/20190108-753227/
To pay, you start up the app, and have the barcode it presents read when you pay. This lets you pay easily using nothing but your smartphone.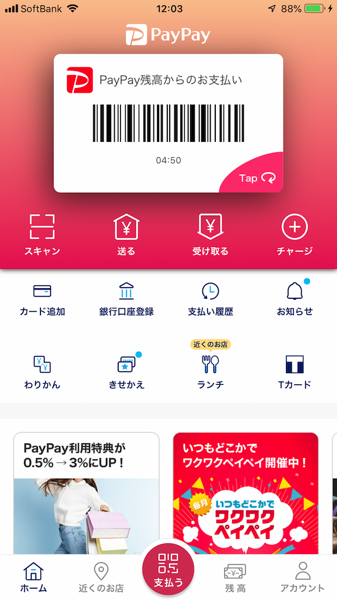 The app in this image is PayPay. This service was born from a team effort of Softbank, Yahoo, and India's Paytm. The service uses a combination of Softbank's large customer base and business power, with Yahoo's users in Yahoo! JAPAN ID, and the technology of Paytm, India's largest payment service business. It became famous following its '10 billion yen giveaway campaign', where each PayPay payment returned 20% of it as points, up to 100,000 yen.
Many mobile payment services can be registered to a credit card, such as VISA, Mastercard, JCB etc., and will return credit card points with each payment.
On the shop's side, meanwhile, it allows for adapting to cashless payment without any implementation cost.
Additionally, PayPay is compatible with AliPay, providing a new user experience.
RakutenPay has a high market share, and several factors in its favour. For example, a Rakuten Bank account brings the cost down, and it can work with many credit cards. LINE Pay is a service on a chat service that's essential within Japan, and is often used for transfers, discounts and so on between LINE friends.
While it might seem full of benefits, it still takes several steps to make a barcode payment: Take your phone out, start the app, get a barcode and tell the cashier that you want to pay by app. As such, I have to wonder if this has enough impact to change the current cash preference. There must still be some people who feel there's no need for this.
Technological progress should continue to make Japan's FinTech more convenient from here on. AI and Big Data should make more services available, while sensors, facial recognition, voice recognition and so on should create more unmanned shops in the style of Amazon Go.
As an engineer, it's exciting to see your own ideas and technology creating services that change the world and become an everyday part of it!