Jose moved from his home country Spain to Japan in July 2018 with his wife and is now engaged in cutting edge IT research and development for a Japanese IT company.
We interviewed Jose, who spoke of his desire to live in Japan and work with the latest Japanese IT technology, and of how he studied Japanese in order to fulfil that dream.
On a trip with my wife, we fell in love with Japan and decided as a couple to move here!
After graduating in computer science in Spain, I worked for a consulting firm as an IT engineer for about three years. At the time, my girlfriend, now my wife, worked in Austria, so during my summer holiday, I joined her and attended a short-term language course. I wanted to live and work in Austria so I started a new job at the Vienna office of an international software development company. Vienna is a very beautiful city with many parks which we often took a stroll in.
In Austria, there were many company holidays, free medical care, and social welfare benefits were substantial. The five years I lived there were very fulfilling, and career-wise I gained significant experience in my field, but (laughing) it was a bit cold. In winter, it was around minus 10 degrees with so much snow…
With my girlfriend we travelled to many countries, including England, Turkey and Greece, as well as South Africa and Thailand.
Since we were young, we both loved Japanese anime and were interested in Japan. The anime broadcast on TV, like Doraemon, Dragon Ball, Conan, Captain Tsubasa and Sailor Moon were very popular.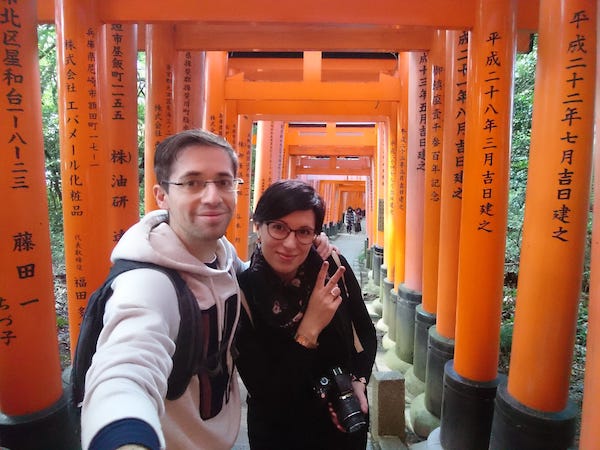 When we first visited Japan in 2015, we visited a lot of places over a two week period such as Tokyo, Kyoto, Osaka, and Nara. In Japan, everything we saw and experienced was so new!
The metropolis of Tokyo with its traditional streets, a country where old and new are all mixed up — that was the Japan that fascinated us. From the Sky Tree to downtown Tokyo, it was so amazing that there was simply no comparison to places we have lived such as Barcelona and Vienna!
Although I had eaten Japanese food abroad, the Japanese food I had in Japan was completely different. The real thing was definitely better!
When my wife said she wanted to live in Japan, we decided, "Alright, let's move to Japan together! "
Japan and a career as an IT engineer
I was enthusiastic about Japanese IT, so I definitely wanted to take part in the development of advanced technology in Japan, while advancing my career. Especially at that time, eep learning/machine learning was popular and I thought it would be a technology needed in many fields in the near future. However, in Europe, there weren't many organizations involved in such new technology, except for Germany and Britain, and outside of Europe, the States and Canada. In Japan, I expected there would be a lot of research and studies in related fields and that there would be an opportunity for me. I thought I should try a new career and experience the wonderful culture of Japan.
So I started studying Japanese in Austria; I took private lessons with a Japanese tutor and also took Japanese classes.
In 2018 after I found out about Human Resocia through the popular job site, Daijob.com, I received an opportunity for an online job interview, and got the job.
A career and life in Japan
Currently, as a GIT engineer at Human Resocia, I am conducting research and development at a major system development company, in a project concerning image recognition technology for voice, objects, characters, numbers etc, which employs deep learning and machine learning.
Before I'd been mainly working on Java development in Europe, so it's my first time working on new technology like this and I find it very challenging.
Because it is a new study, there are many tasks to complete, often difficult ones, as it involves studying and researching on your own, and thinking and implementing it yourself.
But when I have any problems, my colleagues and boss are always there to help me, so I'm very grateful. All in all, the work is fun and challenging, and leading in the direction of a promising career.
As for, Japanese business etiquette, it can be a bit more strictly on the polite and formal side. I took Japanese and business etiquette lessons for three months at Human Resocia, and I can say it gave me a sound understanding.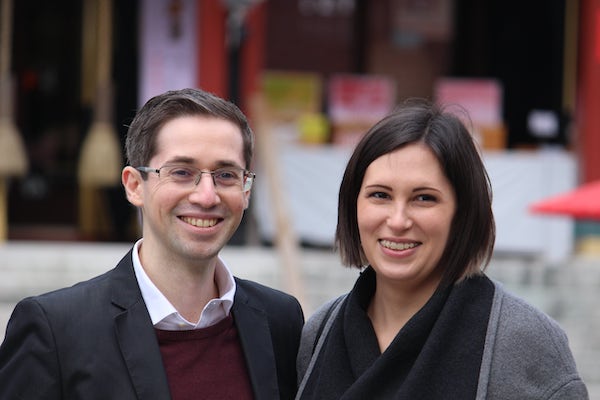 I really like living and working in Japan. I have a very good relationship with my colleagues and boss at work, and I enjoy every day. Japanese people are very kind and friendly, which I already felt when I came to Japan on a trip.
On weekends, I walk with my wife in the neighbourhood and often go to Shibuya and Shinjuku.
There are plenty of places in Japan which are worth a visit. Recently, we went to Nasu Kogen. It was very beautiful, and we spent a great weekend there.
Now my wife and I think we would like to continue living like this in Japan for good. Electricity, gas and other utilities are cheap, it is a very comfortable country to live in, and we are both very happy living in Japan.
For Spanish people family is very important. Home is far away, but at Christmas time all our relatives get together for a party, so returning to Spain once a year is something I really look forward to. Anyway, I can video call them any time, so I don't feel lonely.
WIJ Team