Hello, Yoshimasa here.
Japan is still in the middle of a Python boom. According to the website MyNavi, it ranks first on the list of programming languages engineers want to learn in 2021.
| Rank | Language | Ratio |
| --- | --- | --- |
| 1 | Python | 32.8% |
| 2 | Java | 9.3% |
| 3 | Javascript | 5.9% |
| 4 | C | 5.7% |
| 5 | VC・VC++ | 5.4% |
| 6 | C++ .NET | 4.8% |
| 7 | C# .NET | 4.5% |
| 8 | Ruby | 4.3% |
| 9 | Swift | 2.0% |
| 10 | COBOL | 1.8% |
| 10 | PHP | 1.8% |
One reason is that Python is a key element in artificial intelligence, machine learning, big data, and network infrastructure, and those three fields are also increasingly important here.
| Language | Oct 2020 | April 2021 | Volume compared to 2018 (%) | Change in Number | Change in Rank |
| --- | --- | --- | --- | --- | --- |
| PHP | 32173 | 4307 | 134% | 10897 | ↑ |
| Java | 46538 | 40691 | 87% | -5847 | – |
| C | 24605 | 35934 | 146% | 11329 | – |
| C# | 21005 | 32107 | 153% | 11102 | – |
| Javascript | 18135 | 30404 | 168% | 12269 | – |
| Python | 16993 | 37537 | 162% | 10544 | ↑ |
| C++ | 17097 | 23009 | 135% | 5912 | ↓ |
| Ruby | 11395 | 17220 | 151% | 5825 | – |
| Objective-C | 5456 | 4988 | 174% | 3711 | – |
| HTML 5 | 4988 | 8699 | 174% | 3711 | – |
| HTML 5 | 2442 | 3144 | 129% | 702 | – |
(Based on April 2021 Data from Indeed Japan)
Data from Indeed Japan recruitment ads show that, with 27,000 ads, Python recruitment increased 162% in the six months since the previous survey. A look through those recruitment ads shows that roughly 30% of them require no experience. I believe that the number of openings for people with no Python programming experience is on the rise because companies trying to hire experienced Python programmers are simply unable to do so, since there is currently a serious shortage of Python engineers in Japan.
Yet, I believe that the chances for overseas engineers to work with Python immediately after arriving in Japan are still somewhat limited, because Python is really just another programming language. There are some work fields that will be very difficult to work in without some familiarity with Japan's business practices, operations, and culture. For example, I think would be impossible to successfully build software in artificial intelligence, machine learning, or big data without that familiarity.
Software developers that have some experience with Japanese work culture through offshore development for Japanese companies, though, should have no problems at all. On the contrary, I think such people would have a very good chance of finding success as a software developer in Japan.
If I were going to recommend a Python job for someone who had no experience in Japanese software development, I would say the infrastructure field is a good choice. As a field, it has very little dependence on Japan's business practices, operations, and culture, so engineers can just work at their tasks. Now, I imagine that some people may be reading this and thinking "Python and infrastructure? What?" so, let me finish up by offering some examples of how Python serves in infrastructure construction and operations:
Automatic log retrieval
General automation of remote access and command execution
Automating alive monitoring
Basically, Python can be used to automate most of the operations and maintenance that used to be done manually, so network administrators can handle a lot of network management work by running a simple program. Since these jobs arise every time a network is built or changed, there is a lot of work demand.
About 36% of all the Python recruitment in Japan is for automating network or server maintenance and operation.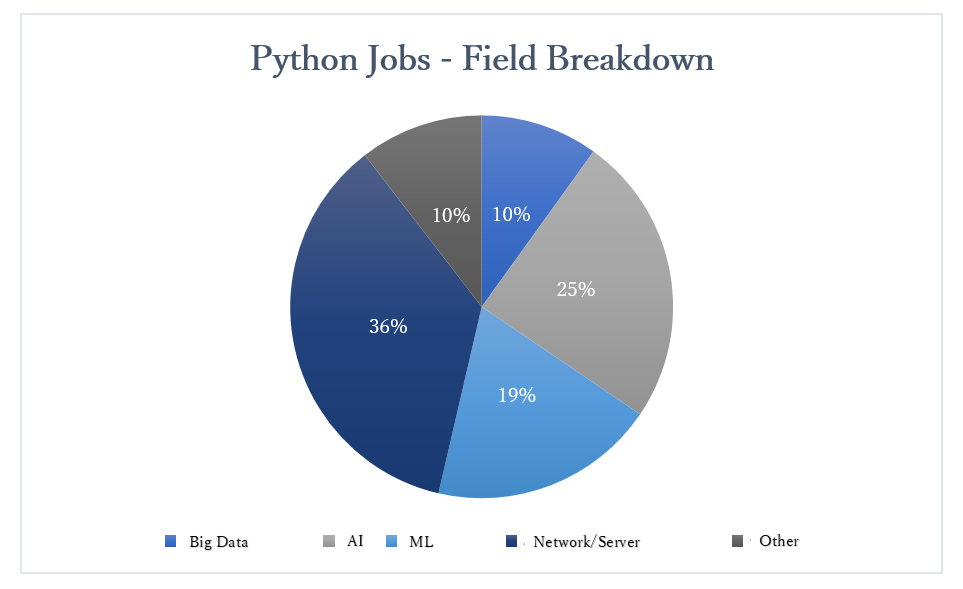 (From Indeed Japan July 2019)
As for the work itself, I think it's a great first job for overseas engineers, since lots of these Python job openings don't require any knowledge of Japanese business practices, operations, and culture. And since programming for automation does not require particularly high skills levels, it is a great way for programmers from overseas who are looking to start getting experience.
And with that, let's call it a day.