Last time, we stopped our tour of Itoigawa at the coast, with fireworks, islands, piles of seafood, and the biggest mochi mortar in the country (probably because the rest of the country quite sensibly decided not to compete, but you never know). This time we're moving inland to explore some of the rest of what the city has to offer.
A word of advice before I move on: Itoigawa has plenty to offer around the year, but if you can, try to avoid coming here at the exact middle of August. August is fine in general! Just for your own sake though, avoid the middle, because that's exactly when most people can travel in Japan; that means crowds and tourist-level pricing for all, and it would just be a bit of a shame to pick that time in particular. Moving on, though.
If seafood doesn't quite suit you, then inland might offer you some meals that suit you better: Depending on whether you picked the more remote areas or not, you'll have all the soba and tempura you could ever want (and I promise you, it's some of the best I've had; the further you get from civilisation, the better the soba), or in the more urban areas, plenty of family restaurants – a safe something-for-everyone option.
The parts identifying with Nou and Itoigawa – this city was originally three towns – also have Nakashima, a very nice cake store fairly close to the coast. Believe me, I'm still confused that what's essentially a rural farming/fishing town has two excellent cake shops, but I'm not complaining.
Let's start with the obvious. The countryside is beautiful. I took this right outside my house one day and it's honestly just an unremarkable view across the road by this place's standards. (Photo 1)
In my corner of the city, four things stand out to me. One is Maseguchi Onsen and Gongensou, your two local options for hot springs if you've ever cared to try it (most people love it, but I never went in for the idea). Another is Gongen mountain, which offers many routes to drive up with beautiful views both through the mountain and at the valleys below. Come in the right season and you'll find beautiful greenery, blooming trees (cherry, peach and plum in particular), breathtaking expanses of snow, or the entire valley lit up by bright red, yellow and orange trees. There are quite a few nice streams to stop at there, too.
Yes, that's all four seasons. The secret is that it's always a wonderful time to come here. Though, if you go inland in winter, you should make sure your car is up to the job.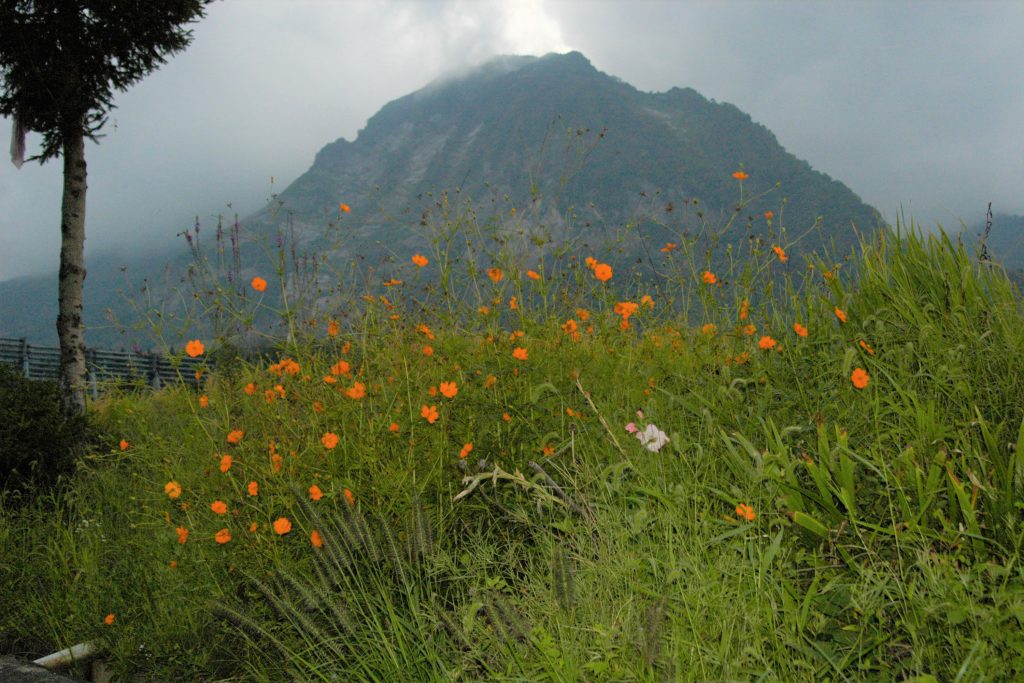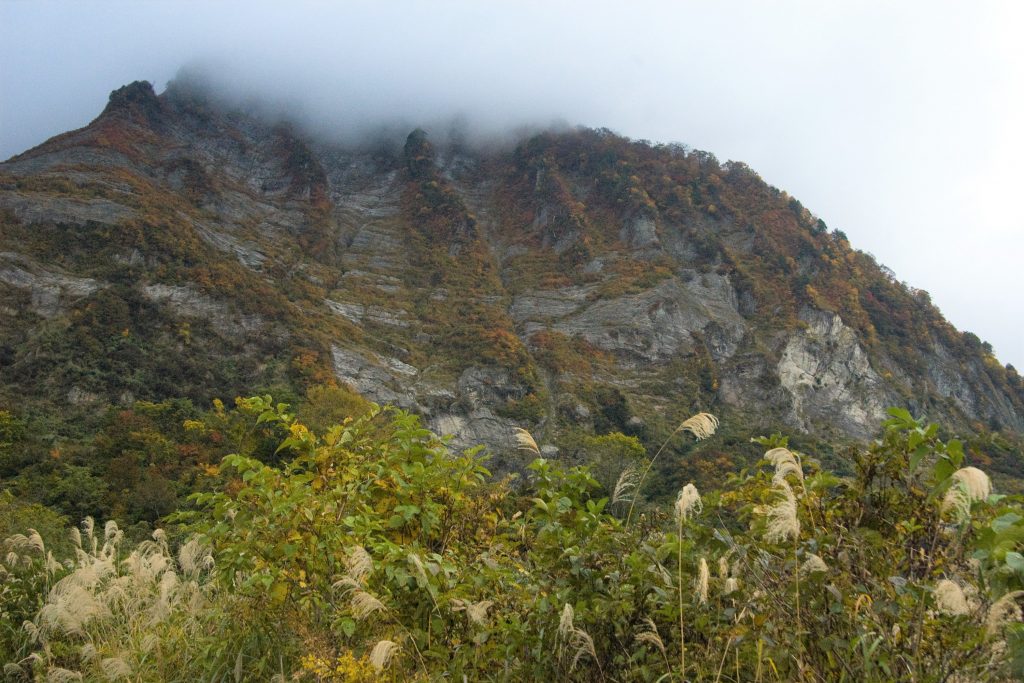 Further up Gongen, you can also find Mannen-yuki, or the "ten thousand year glacier" (pictured above, twice). It's roughly what it sounds like, an enormous pile of snow that may shrink and grow through the year but never, ever goes away. Have fun walking around on it all you like, and getting a much-needed break from the summer heat, or just a gigantic expanse of snow to enjoy, depending on the time of year.
Related to that, if you come in winter and in a sporty sort of mood, the Sherman ski resort (a name which understates how much it has to offer for snowboarders) has a lot to offer through all of winter and quite a bit of spring too – the snow takes a while to melt, out here, and you can easily ski in April. I can't, but that has more to do with being too clumsy to ski or snowboard during any part of the year.
While you're here, if you feel like trying a local speciality (again), get some sasa-zushi from any of a few shops or Gongensou; they're large, cut bamboo leaves piled high with rice and a random assortment of toppings. The taste of the leaf sinks in a bit, which makes it quite different from what you might expect, but definitely nice.
At this point we should fast-forward a bit past all the other mountains, hidden waterfalls, streams and lakes you might find – they're fairly self-explanatory, although I encourage you to explore them all you want and savour the view.
– – – – –
Now we arrive at the three things that really set Itoigawa up for its title as a Geopark.
One is its salt trail, which I'll admit is mostly of interest to historians. To summarise, the salt trail – shio no michi – is the route by which people made salt made a little way north of here and carried it to major cities to sell, a great many centuries ago. If you like your history, it could be interesting, given its importance at the time; I certainly do, but I can admit that it's not what you might call visually spectacular.
The next point is jade. Itoigawa was once home to the world's oldest jade-using civilisation, which is an easy one to narrow down because getting a place to actually produce jade requires some extremely specific conditions. Itoigawa – again, never a city for half-measures – has multiple blocks of jade the size of several people to go around. While you can buy jade or jewelry from it, on the off-chance that you find any, you're not supposed to take it with you (mostly because hundreds of others got the same idea). You'll see one of those huge blocks below.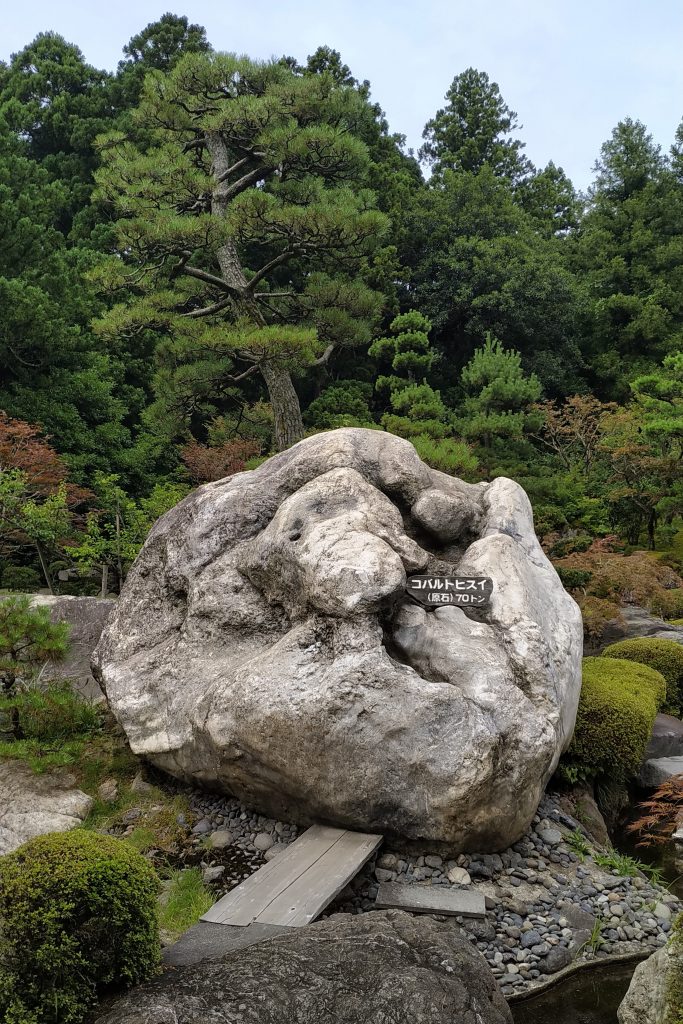 Looks nicer once you cut and polish it a bit, promise.
Still, the Kotakigawa Jade Gorge or 小滝川ヒスイ峡 (again, for searching purposes) is worth a visit. Even if you don't find jade everywhere, it's a beautiful gorge to walk around in. It also features Fudoutaki (or literally 'unmoving waterfall', which might clue you into what happens in winter) and the stunning Takanami-no-Ike lake. Unfortunately, I don't have pictures of any of these, or the glacier right now. If, on the other hand, it's gems you want to see… Then let me guide you to the Fossa Magna Museum, a place which showcases the main reason why Itoigawa has so many interesting geological quirks is a direct result of sitting on the fault that separates northeast from southwest Japan in one clean line.
It's the kind of thing you try not to think about.
Jokes aside, though, nothing's ever really come of it, and Itoigawa is as safe as anywhere. What we did get out of it is the museum; on the outside, it's a park you could spend three or four hours exploring, which has a fully excavated Jomon-era village sitting somewhere around there (because at this point, why not?) and occasionally an exhibition of classic cars at some point in the summer.
That's all before stepping inside, where you'll be greeted by displays of just about every fossil, gem, mineral, historical artifact and so on that you can imagine, as well as the less flashy exposition on the entire Fossa Magna (or 'great fault') situation. There's enough there in displays and odd little experiments to keep anybody entertained for hours, and I do mean anybody – I can say from my own personal experience and seeing it in others that if you're eight years old and don't care for signs, or just can't read Japanese, there's still enough here to keep you for a few hours. On the way out, you can even buy up some stones or replica fossils to take home, a temptation that took me most of a decade to start resisting.
If all that's made its case – and I hope it did – then you know this is a city with a lot to offer, at the price of not much more than getting here. I hope this convinces at least one person to come and visit, because there really isn't another place quite like this; every time I travel and come back home, I realise all over again that as much as I take it for granted, I'm lucky enough to live in the kind of place that people travel quite a long distance to see. To be honest, it tends to leave me frustrated all over again that this little town (well, technically a city) has made almost no effort to tell anyone about itself, but now you know.
If you're in the area and in the mood for a bigger city next, try Nagaoka, Niigata or Kanazawa next; I can recommend them all, though not in nearly so much detail. If on the other hand you want some better, more concrete information on Itoigawa, the city's geopark site is reasonably well-equipped, and in English (http://geo-itoigawa.com/eng/), though I personally had nothing to do with the English. Look around a little; there's so much here that I had to make a lot of cuts (I'm not even talking about historical drama only I care about), so you're bound to find something for you!